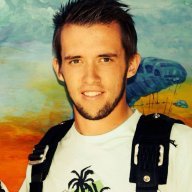 Contributor
Read Fastlane!
Read Unscripted!
User Power
Value/Post Ratio
209%
Mar 13, 2018
22
46
35
Hey, everyone! I recently dropped out of college because I didn't like where I was headed. After getting my AA I thought I'd study biology and learn more about the saltwater world that I'm so obsessed with (I have a flashy reef tank). Long story short, I decided I'd be better off starting my own business and vacationing at the reef instead of trying to study my way there.
I've been teaching myself paid traffic for the last couple of months and am currently starting AdWords for my parents' HVAC business. I'm ready to start my own thing, though. Like them, I have always thought owning your own business(es) was the best way to support yourself. Self-employment has always seemed more secure.
I found this community through eliquid's paid traffic thread. That post is so chock-full of great information. I've also read a few of Andy Black's AdWords threads and found them incredibly valuable and BS free. The online world is FULL of guru fluff and these two guys speak so plainly- it's refreshing.
What I hope to achieve before July 2018:
I want to be doing $3,000/month of revenue via AdWords and Facebook Ads clients. This is when I'd quit my job and start scaling.
Questions I have today:
Any advice on creating a digital sales funnel for leads? I work full time for my parents, so finding time to cold call HVAC businesses would be difficult. I do have an hour lunch, though.
In regards to AdWords for other HVAC companies, what's the best way to charge for this service? I can already see how difficult it might be to ask $1k/mo on top of their ad spend. Any pointers on how to deal with this objection? Or how to avoid it altogether?
So, that's me. I'm really glad to have found this community and I hope to someday be a major contributor. Thanks for accepting me