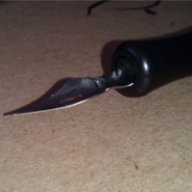 Contributor
Read Fastlane!
User Power
Value/Post Ratio
139%
Oct 14, 2017
18
25
24
It took me a while to get to this point but I'm finally doing it.
I woke up 4 hours past my alarm today, which sucks, but I wasn't going to let that stop me. I've learned many things and have decided to start putting that knowledge to use.
I don't know how I'm going to organize these posts yet. I suppose I will post daily updates on what I've done, what I'm doing, and what I plan to do.
I am starting a blog with a partner. The current
goal
is to put out content 3 times a week, building up a following, and to start making money putting advertisements on it. I have an idea of what I can do to generate more income after that but I can't look too far ahead. I don't have much money at the moment, but i'm using the last of it to own a domain and pay for 1 year of hosting. I'm putting everything I've got into this.
I am nervous but I know I can start making money in 1 year.
Currently I am making a homepage for the website. I won't spend much time on this because the content is the most important part. I will finish the website tonight and start working on helpful, and entertaining posts. After that, I will work on getting it out into the world.
I will post an update tomorrow on how things are going. I think it's pretty simple.
I just need to make valuable content and then get it out there for people to see.
Simple isn't always easy but I am prepared.

​