Platinum Contributor
Speedway Pass
Sell Me This PEN!
It's been a while since a piece of marketing grabbed my attention. Between the email templates, and the generic flyers. The industry still continues to suffer from ad blindness and the ever increasing noise of digital outreach.
However, today I received a peculiar envelope. As wide as a piece of computer paper, and half the height. Stuffed with a plastic...not sure what to call it...square to give the package bulk.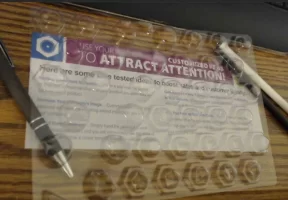 (What is this thing and where can you get one?)
Inside was, of course, a pen...
But not just any pen. This one was accompanied by 3 separate pieces of copy that would make Dan Kennedy shed a tear of joy.
1. Was a full letter that was short and to the point.
"Here is the best selling product that millions of people are buying. We're giving you half off if you order within the next 30 days. Just fill out the form (with the pen we included inside) and mail us the prepaid envelope. No payment necessary, we've already opened an account for you so we can bill you later."

Oh yeah, and the whole page was customized with all of my info filled in. It's a template, but for a 50c product, you wouldn't expect to receive a personal call from the CEO.
2. Next was an index card with a "note."
This is the only time we can do this. But everyone else keeps coming back for more.

3. The sales pitch below. Probably the best piece of this whole thing, pictured below. Mostly focusing on reciprocity and keeping you in the customer's mind.
(I forgot to mention, the pen itself has my name, address and phone on the other side. Engraved into the soft touch body. Which is customizable with any message.)
Which got me thinking... How much does it cost to not look like a bum business? One that's not 3 months away from bankruptcy.
You know the types. Terrible chairs in the waiting area. Dim fluorescent lighting, with no natural views to the outside. With pens like the ones in the upper right corner. Which I picked up from other businesses that gave them out as promotional material.
After doing a bit of digging. The 2 cheap looking pens come out to 50c - $1. The one from the package, goes for $1.50, at the most.
I can't tell if the cap is plastic or metal. The clip near the top certainly is metallic. But that's not the best part. Where you would find the eraser on a pencil, they placed a contact point for touchscreen devices. If you're reading an ebook or taking other notes from a tablet or smartphone, flip this sucker over and scroll to your heart's content.
Now let's face it. If your customers buying decision pivots on a writing utensil, you may have bigger issues.
But if you're going the Apple route, and want to control and improve every little detail of your public perception. A huge jump in perceived quality, may not be out of reach.
I wonder what else you can spend essentially the same money on, but get more value...
Last edited: