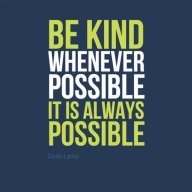 New Contributor
Read Fastlane!
Hello everyone. My name is David. I am excited to join the Fast Lane family here.

My Story
When I was 7, I was gifted a box of Twizzlers, which I resold at my afterschool center then launched a snack business. That incited my entrepreneurship and pushed me to attempt to create income streams with various levels of failure throughout the years: distribution of multi-level marketing products, affiliate sites, sales of liquidated stock at markets, direct marketing, and others. I learned a basic entrepreneurship's skillset through the experience: selling, following through, motivating myself, thinking creatively, etc.
When time for university came around, I had no serious success to stop me from applying and much cajoling from my parents who worked hard so that I could have a better life. I started out heavily involved in my college's entrepreneurship program, yet multiple reasons or excuses over the years led me further and further toward a corporate career. The less I enjoyed it, the harder I pushed. It all came to a standstill when I was injured and needed to recover for a year. In that case, pushing through made it worse, so I took time off school, graduated soon after, and started a corporate career.
My role is good. I have a great manager, the pay is decent, and I have a solid career trajectory. However, I started to fall into emotional funks similar to those I experienced in college. I started to get sick often, and it seems to be catalyzed by my thoughts – thoughts craving change. I realized that entrepreneurship is missing from my life with many of its beautiful aspects: leading, creating products, ideating, trading rules for results, seeing the impact, and working in a dynamic, changing environment. In college, I realized some of those traits in startup-type initiatives I led, but I want to experience it fully.
I'm not here for the money. I would like to live a lifestyle like
@MJ DeMarco
and some of the folks here, but I also enjoy the process. I want to launch businesses that make an impact by solving societal needs.
My Present
Right now, I have a ton of excuses. I accepted a signing bonus that constitutes a sizeable amount of my salary – staying another 6 months means I can keep half, staying another 18 months means I can keep it all. Luckily, I did not spend it. I have an apartment lease through June wherein subletting or Airbnbing may not be possible and terminating early comes with a penalty. This makes it hard to reduce my expenses so that I could focus on a business. I also cannot receive bulk packages here.
That said, I am moving past the excuses. I had two business ideas, one of which is more feasible in the short-term. It fulfills a need that I personally had, and I believe there is significant potential in creating a brand around it. After reading
@Walter Hay
's fantastic book on importing,
@biophase
's posts, and other users' experiences on here, I am looking at working with manufacturers in China to import the item. Since quality control will be very important for this category and the brand I would like to build, I am looking at renting storage units. This would add a cost of $150+ per month; with package delivery and package pick-up, this could be $300+ per month, but I plan to call to confirm. My concern is that I really only need these storage units when I am receiving deliveries – not during manufacturing, shipping, between orders, etc. – but I am paying monthly. Moreover, this creates a very high cost base creating a high risk; even if successful, margins will drop significantly just for storage.
Other options I am looking at include buying a house and renting it out; I may speak with my leasing company about breaking the lease. Otherwise, I will have to wait until June, though I can start looking for a house earlier. I do not like the idea of being tied down, but I am creating a network in the city that could be helpful. Ideally, I would prefer to quit my job, travel for a few months to detox (also get business ideas while travelling), then return to start this business. That is another option I am considering.
Hopefully, that tells you a little about me. I look forward to learning more about everyone here as we work together to achieve our goals.