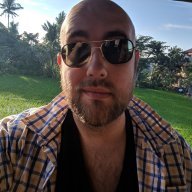 Mini Media Mogul
Read Fastlane!
Speedway Pass
Jun 16, 2012
1,483
3,247
34
The Scene.
You're at local diner.
It's a small place. The cook and his wife run it by themselves. You've eaten there twice before and you came in today for a burger.
You order and hand over your $10.
After a while, the cook/owner approaches. "I accidentally dropped your burger on the floor" he says.
"Alright..." you say. "That's fine, don't worry about it. Just let me know when you're done with the replacement."
"Nonono" he says. "I don't think you understand. I made the burger already. If you want me to make me another it will be another $10."
"That's crazy." You tell him.
He leaves and heads into the back room. He comes back with an iPad. "I have security cam footage." He says. "You can see me making the burger. There are timestamps too. Proof I made it. You can even deduce how much time I spent making it. Doesn't that look delicious?"
"I'm not paying for a second burger!" you say.
"I put a lot of effort into this," he says. "If you want another, you have to pay me again. I'm not making a SECOND burger for free."
The context.
I saw this posted in a copywriting facebook group. Emphasis is mine.
Just looking for some reassurance... I work with one client writing regular blog posts - before I was doing them in word but then they started using Ghost editor. Basically they write a brief in there and then I edit it. It has the autosave feature, and there is literally no save button anywhere on the screen - in fact no buttons at all! Anyway I told them it was done after spending 4 hours on it, then they came back and said it's not there. When I look at the editor it says the last time it was updated was like 10 days ago by them, and there is no evidence that I did any work!!!!! I gave them details from my Chrome history about the times that I was logged on to the editor and asked them to check with Ghost, now

they are asking me to write it again. Am I right to ask for extra compensation?

When I last looked at it, all my edits were there and there was nothing to warn that it didn't save. I was connected to the internet the whole time as I was sending and receiving other messages in the time. I don't want to have to do another 4 hours of work for free
The answer to their question, of course, is NO. You are NOT right to ask for extra compensation. They hired you for a job and you didn't do it yet. You get paid once.
As a freelancer, you're running a business. You're expected, as the expert, to learn how to BACK UP YOUR OWN WORK.
Missed deadlines MIGHT be excused due to this circumstance. But there is absolutely no world in which you're entitled to extra money for messing up.