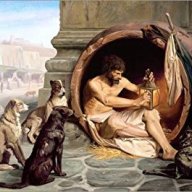 New Contributor
Read Fastlane!
Read Unscripted!
Long time lurker, first time poster. Basically, I was kicked out of my high school in the 2000s and talked my way into working at the local newspaper. The work enchanted me and everyone knew I was going to be a writer. I became an excellent reporter and well-known in my hometown.
I don't have to tell you what happened. Financial crisis, the collapse of news, and particularly here in Australia the media let itself die for short-term profits. Fast forward a decade of odd jobs and bad pay, when those odd jobs didn't stiff me. I eventually became a counsellor (which is just like interviewing people for stories), got my diploma, and that very month the industry decided you now needed a Bachelor's and not just a diploma to get a job. I felt like I was in a scam. Another $20,000 and two years to work a job you already promised me? Yeah, next you'll be selling me a Nigerian principality. I went back to odd jobs.
In 2018, while I was recovering from having a piece of my spine removed, I read
TMF
and damn did it make sense to me. Since then I've been starting businesses and using them to achieve what I want. The news prepared me to network and negotiate, and counselling taught me to listen. I thrived at conferences. Here's what I do:
1) I sell information
2) I sell shovels
For example, I'm a writer. I didn't go to copywriter's conferences where everyone was looking for a business, I went to a business conference and told everyone I was a copywriter. This kept me afloat more comfortably than before, but I was working alone and people still stiffed me on pay. Startups were notorious for this.
I've worked and lived with disability, so I started a content mill where I gave people information about living with and around one. This got traction, and I showed it to people who might take care of the bean-counting and let me write all day as an employee. It worked, at 30 I got my first salaried job (did I mention no one would give me a salary until now?). That went great until the boss suddenly began badmouthing me to industry leaders and friends I hired, sending me 1 am abusive emails, and ordering me to breach the Covid lockdown to attend meetings. At a separate place, I interned for a guy who spoke in credible death threats followed by English.
That brings us to now. I've set up a consultation business, and honestly, I'm objectively in a world of shit. I'm not scared, it's just true that I'm playing this latest round on nightmare mode. I'm in Australia, unemployed in a pandemic, four of the jobs I saw today had illegally low pay, and the average house costs a million dollars no matter where you go. My partner needs a family soon and the real estate agency may be angling to kick us out, which they can do here whenever they want. As you talk to me, it becomes gradually clear that I'm autistic and have a well-hidden stutter, which is why so many people try to bully and screw me (and why I got kicked out of high school). I am surrounded by f*ck This Experiences. But as you've seen, I have a
lot
going for me.
I refuse to let myself be screwed again. The future that I and my loved ones want depends on me getting this right soon, so please bear with me while I absorb all your amazing knowledge.
I'm here to learn.
I'm going to be humble, ask questions, and try whatever it takes. I've been through some serious shit, I've lost everything multiple times, but I know I can make it.
Anyway, ask me anything. As I learn, I'd love to help however I can.