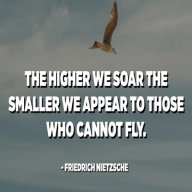 Platinum Contributor
Speedway Pass
User Power
Value/Post Ratio
273%
Jun 24, 2014
1,578
4,313
Hey guys,

Quick question for the more experienced entrepreneurs/forum members and those that have been through what I'm about to describe.

So I'm just sitting here at home today, looking at my different brands/companies, looking at sales for the day, inventory, etc. and it hit me. This mental cloud came over me ready to ruin my mood. Ready to ruin my day. It started pouring mental rain all over me. It made me drown in thoughts of:

- "what am I doing with my life?"
- "so what?"
- "now what?"
- "is this even sustainable?"

The cloud finally started moving again. It got clear. But, the damage was done. My mood changed 180 degrees. I became "sad". I tried forcing a smile to those that were interacting with me hours after this storm. I don't know how to feel. I don't know how to react. I don't know what to change.

Has anyone been through something similar? How do you or did you handle it?

Been happening quite often lately, out of nowhere... I don't understand why.