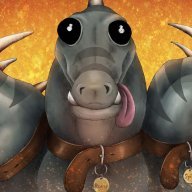 New Contributor
Read Fastlane!
Hello everyone!
I've just recently joined this Forum about a day ago. My name is Erika. I'm 28 and from South Africa.
By trade I am a digital illustrator focusing on fantasy art. I really enjoy drawing and I've always been known as the artist among the people in my life. I have a masters degree in cell biology but decided that working for a boss is not for me. I remember going for job interviews and feeling like such a fake and a liar because I was saying how excited I feel about this potential opportunity and how I want to grow and make a difference in the company etc, etc, bla, bla, bla. It's not like I could really be picky though because I really needed the money.
Despite all of that I turned down job offers. I remember one employer phoning me after my interview and telling me I got the job. I was to start out as one of their junior lecturers. It was at a medical university and I was to teach the first year students about anatomy and histology. As soon as he told me that they want me to come work for them, instead of being excited about a new job, it felt like someone had dropped a stone in my stomach. It would be at least an hours drive there and back every day, and if there was traffic, it would take longer. And I hated lecturing. So I told him that I was no longer looking for work.
Fast forward about two years. I had to move back in with my mom because, well, no job. But I started drawing and painting. Or actually, I have always been doing art but I had decided to try and make a living off of it. I taught myself how to use Photoshop so that I can paint digitally as well and started posting my art on social media and trying to sell though Patreon and RedBubble. As you might be able to guess, this also became more of a job than anything else. I am slowly loosing my love for art because it is now a must instead of something I want to do. And sales are not going well, to put it lightly.
I am also slowly loosing my interest in doing other things that I used to love such as mountain biking. Usually I couldn't get enough. No distance was too far, or time too late or early. Now I need to drag myself to go for a ride. My relationship also started taking a knock.
Anyway, I came across the
Millionaire Fastlane
and I couldn't put the book down! Thinking back, this book confirmed things I actually already knew deep down inside or had not allowed myself to believe because they were to 'crazy' and 'not realistic'. It gave me hope to dream again. To tell myself that I am also capable of doing big things and becoming free. While I was still reading the book I started thinking and came up with an idea to fill a specific niche within the sports community or health community in general. I even started working on a product!
I am by no means an entrepreneur and quite frankly the whole endeavor scares the living day lights out of me. Which is part of the reason why I joined the forum. But the thought of struggling to make ends meet every month, having to go back to a 9-5, not being able to sleep due to stress, not being able to get up in the morning as a result, living for the weekend and struggling with my energy and motivation every day is a worse thought than jumping into something that frightens me. Especially if this something has the potential to set me free one day and put me in a position where I can hopefully help others too.
Wow, that was much longer than I though it would be. Anyway, thank you for reading, and thank you MJ for writing your books and creating this forum. I have started reading
unscripted
as well. I am going to be lurking here and reading threads. Hopefully I can learn something from the people on here who are already where I want to be. And hopefully one day I can contribute and help other people who are in a similar situation than I am in now.
Until then, Cheers!