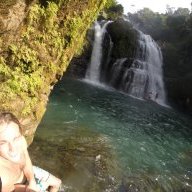 Contributor
Speedway Pass
On November 9th I had this idea for an invention. On November 9th, I got my price quote and samples back from my manufacturer (they were perfect for now) and am ready to sell.

My website is done (haven't released to majority public yet, only small groups for review), social media has been active for 3 days and currently have 100+ followers on Instagram (haven't started trying to blow it up, these are mostly followers from a couple of my hashtags on the pictures), supply-chain and manufacturing are all linked under one roof so I have only one chain to go through for my end product (they are also local), I can start producing in units of 36/design, I have a patent pending, no busn. license yet because I am doing a pre-sale during December and won't give tangible products until January (which I will have the busn. license then), and am now on my way to california for a month to see if I can't do something with this idea.

See you guys when I get back! Thanks for all the feedback and help.

I don't think i'm skilled or knowledgable enough yet to do an AMA about start-up, prototyping, and executing, but I did manage to plan this entire process out and execute it in exactly 30 days from concept to business. So, if you do have a question, i'd be glad to answer it the best I can.

Now for sales!