Contributor
Read Millionaire Fastlane
I've Read UNSCRIPTED
Hey!
Wow it's been about 1 year since I last visited this website/forum. At the time I was broke, lost, and just looking for answers. A little background information on me - I'm a 30 y.o guy in Sydney Australia who ended up hating being a physio in the first 6months out of graduation ... the idea of getting paid chips in return for an hour of your life really hit a pain point for me as I'm sure the rest of you feel / have felt. I started diving deep into self development books and landed on
millionaire fastlane
(which is one of my top 5 books, along with built to sell, EMyth, atomic habits, and built to sell). I then went on a wild exploration of what I could do to make side income / careers that make $$. Tried the usuals and got burnt to a crisp ie bitcoin trader, forex trader, MLM, real estate agent, sales representative, digital marketing agency. Following the shiny object does not yield you the results unless you are determined and/or talented to become the top 1-2% of that industry. At this time of exploration I took the easiest mindless role I could do just to make money to pay for bills (which was working as a physiotherapist in aged care - usually I would finish my work and then continue with building my side hustle for the rest of the day). Eventually nothing seemed to stick as I was buying courses and trying it for a bit and got no where - following the footsteps of someone successful will make me successful faster right? WRONG - most of these cats are just good internet marketers who forget about you after you've paid them $1000. Most courses these gurus are selling are absolute shit. I kept thinking why nothing seemed to stick and realised that I was never providing real value to anyone. I was just trying to peddel product or make sales for the sake of making sales. I felt no fufillment in doing anything because I was doing it for MYSELF - being a selfish bastard trying just to make money for the sake of making money. So I went back to the drawing board.
Finally I decide to stick to what I know best (selling physio services). I stumble on a scheme in Australia that provide funding to help people with disabilities. I thought it was perfect because
1) It was a business that actually provided real VALUE to the end consumer
2) I actually believed in the service I was providing and I knew no one markets very well in this space
3) Although I didn't know the technicalities of being a great physio (i'm actually the shittiest physio / technical person) I knew how to communicate and connect with people. One of my only great skills is that I'm an extremely strong active listener. It's really true what the great sales people say - Talk 20% of the time and listen 80% and you're already likable. People want to do business with people who understand and trust them, not people who love to hear the sound of their own voice.
So I start a sole trader ABN, slap together a shitty website, get my partner to design me a logo and off I went to expos, linkedIN coffee meetings, and cold calling. Lot of no's, fake smiles, and "we should get coffee again" conversations later, I finally got my FIRST client (it was a glorious feeling, let me tell you). That hit of dopamine felt amazing and just like that my confidence went up. Eventually 1 client became 2, 2 became 4, and it kept growing until I needed help. I knew I couldn't afford a set salary for people so I recruited people who I worked with before in aged care as contractors. I was still juggling a job working 3-4 days/week and I was finally busy enough making an income that I could just survive with on my own. Took the jump to focus on my business full time and never looked back. I finally realised what business owners mean when they say it's a 24/7 job. You're always on the clock and thinking about how you can improve your service, product, or culture. I've had to learn 'business' skills very quickly and it's the best thing to learn - is to DO, iterate, learn, and keep DOING. Failure is absoulutely necessary to succeed - you're not doing it right if you're not failing at something.
It's been about 15 months now and I've added more disciplines to our mobile allied health service; physio, occupational therapy, dietician, psychologist, exercise physiology. We're a team of 8 FTE and 3-4 contractors and still continuuing to grow. My goal is to become a national provider with +150 staff. Right now we're solidifying our systems, processes, and I'm looking to accelerate and scale in the next 6months. I have no coach or mentors (you don't need them). Become a lover of learning. Read , brainstorm with others, listen to podcasts etc. Take little risks that won't bankrupt you and learn from it - iterate iterate iterate.
My biggest lessons is to have a fking inspiring mission and have big dreams - you will attract high quality talent to build this dream of yours. Hire people who love growth, who aren't afraid to be honest with the boss, and people who want to be there for the ride. You'll only be able to attract these people depending on the mindset that you as the owner have. Do you value culture? Do you value meritocracy? Will you have a huge ego that will shut down any good idea that comes to you? Additionally, if you want to succeed lose any shitty negative people in your life and surround yourself with positive people who are happy to see you win.
Starting a small business will teach you the big pillars of running a successful operation - Finance, marketing, HR, operations, service delivery, culture. Stop consuming content and just for 'hustle porn'. Build self awareness to know when you're just doing non roi producing activities like changing your logo or website. I used to go on this website daily to see if I could find any new 'ideas' that would give me a lightbulb moment and accelerate me to become the next zucks - this is dumb a$$ thinking and attributed to my hustle porn mentality. The moment I started being mindful and focusing on the step ahead of me was when I was able to grow myself and thus my business. Grateful /extremely lucky that my industry wasn't destroyed by COVID as well - we had to pivot quickly to adapt to the environemnt. You can see our revenue below and we're probably at around a 15-20% profit margin when industry average is 20-35 (i've heavily invested this year)
This post is for me 1 year ago - don't give up on your dreams. Develop a plan, split it up into chunks, and be an execution master. Compound interest works in wonderful ways. I still have so much to learn and I'm excited for the next few years as my goal is to become an 8figure business, not just for the money but for the game
Happy to chat / brainstorm ideas on your business and connect with other people here - feel free to DM or post here.
Cheers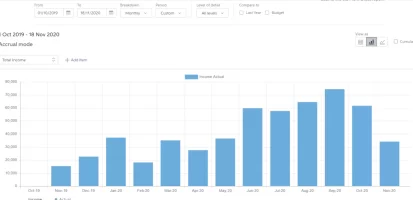 Don't like ads? Remove them while supporting the forum. Subscribe.