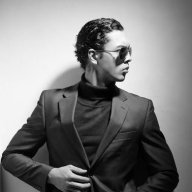 Bronze Contributor
Read Fastlane!
Read Unscripted!
Speedway Pass
User Power
Value/Post Ratio
238%
Aug 3, 2016
61
145
35
Read this on reddit. Pretty nuts if you ask me. I think to a certain extent, you really gotta be careful not to get too attached emotionally with money/success etc. At the end of the day, it doesn't mean that you can't have a good life without it.
I don't really know where to post this but I feel like I need to vent.

Do not take this as criticism of Bitcoin, blockchain technology, or cryptocurrency users & developers, it's not.

There are probably other factors that led to my brother's suicide, but he had been beating himself up over Bitcoin for the past several years to the point where he seemed constantly depressed over it and gradually became a shadow of his former happy self.

He claimed to have owned 15,000 at one point, which may have been an exaggeration. But I know for a fact that at some point around October-November 2012 he did have at least 6,000 BTC which he showed me in his wallets. He was so enthusiastic about Bitcoin and how cryptocurrencies would revolutionize the financial world. For awhile he was annoying the F*ck out of our relatives about how it would make them millionaires.

I'm not sure exactly what happened to his BTC. Sometime in 2013 he claimed to have lost most of them in a hack and sold the remainder too early. He very well may have sold them all too early, but who knows.

As the price took off in late 2013-early 2014 you could tell he was distraught over it and became increasingly withdrawn from family and friends. Whenever I did manage to contact him he would sometimes end up ranting about how badly he had f*cked up and how he would never have a chance to be rich again.

As the price climbed up to 10k over the past several months it became even more difficult to make contact with him, he just wouldn't reply to me or my parents calls and texts. A couple weeks ago my parents flew out to see my brother and found him dead by suicide with no note. He was 29 with 50 years of life ahead of him.

Other than obvious grief I don't really know how to feel about this. If I had missed out on $50M I might have killed myself too. I can't imagine what my brother must have been feeling these past several years knowing he missed his best & easiest shot at the wealthy life he had always fantasized about. Bitcoin totally f*cked up his mindset to the point where you couldn't talk about anything related to investing, money or finances without him storming off or crying.

If there's any more of you in a similar situation feel free to PM me. Please try to recognize there are endless economic opportunities in life and 1 mistake doesn't define your future. There are family and friends who care about you and will listen.
My brother killed himself because of BTC • r/Bitcoin