I decided to share my deep analysis of social media (mainly Instagram). This was written long ago in my iNotes but I decided to share it because it may help others significantly. By the way, this is related to Hyperreality #4: Hyper-personality from
UNSCRIPTED
. Please note that this analysis is about using Instagram for personal purposes, not business purposes.
.
.
.
Deep Research and Analysis Of Social Media
Main Social Media Platform: Instagram
Biggest Negatives Of Instagram (Summary):
100+ negatives and almost 0 benefits of using Instagram for personal purposes (different than business purposes)
wastes time & significantly interferes with short-term and long-term goals (you can never get back time)
checking up on people's lives for no reason instead of levelling up yourself = super waste
changes your brain negatively through neuroplasticity (worst)
hurts short-term and long-term ability to focus
hurts short-term and long-term attention span
hurts short-term and long-term ability to be productive
hurts short-term and long-term ability to sustain concentration
huge negative cognitive effects in the long-term
hurts dopamine receptors in your brain
interacting in a fake, unrealistic, fantasy world where only 1-2% is real, 98-99% is fake
am I making more money for myself or am I just making Instagram money?
What You Will Miss Out On If Deleted:
subconscious comparison to fake lives and a fake reality
subconscious false-estimation of your social status in the social hierarchy
gossip
memes
funny videos
info on people's lives
narcissists ("me, me, me, look at me, look what I'm doing")
rare important news
the feeling of "FOMO" and being lonely
worrying about what other people are doing = HUGE waste of time
possible sexual interactions
short-term entertainment and humour (dopamine)
Instagram models and "soft porn"
Biggest Benefits Of Deleting Instagram:
saving TIME (can never get it back)
more TIME to:

achieve my goals
level up bank account
level up business
level up health/body/mind
level up real relationships
level up happiness and fulfillment

improved attention span
improved focus
improved deep work ability
increase in productivity
increase in happiness
spending attention wisely
spending time wisely
accelerated path to achieving goals
AND PREVENTING ALL NEGATIVES MENTIONED
Bill Gates & Warren Buffets #1 Word & Secret For Success = Focus
Biggest Obstacle To Success = Opposite of Focus
Opposite of Focus = Distraction
Biggest Distraction = Your Phone + Social Media + Other People
Instagram Users + App:
people show the rare 98% of their life (highlight reel)
people show fake happiness and fulfillment
this causes a fear of missing out
this causes comparison, which is the #1 source of unhappiness in humans
worst part: comparison to unrealistic and fake reality/world where people only show their best and brightest moments
similar to watching a 2-minute highlight video of a 90-minute soccer game
constantly checking your social hierarchal status on a fake social network
huge suffering from contrast bias and comparison to a fake reality
#1 source of unhappiness: comparison

"Don't worry about what anybody else is doing. Focus on yourself. Life-long habit of not worrying about anybodies life."
"The people who care less about what other people think about them tend to have a better life."- Gary Vaynerchuk
"Social media has created jealous behaviour over illusions. Some of you are envious of things, relationships, and lifestyles that don't even exist."
worrying about what other people are doing = HUGE waste of time

study shows that 60% of Instagram posts are selfies (6 out of 10 posts)
selfies = "me, me, me, me, me, me, look at me, look what I'm doing"
98% of things are fake/unrealistic on Instagram
Instagram is a highlight-reel, everybody shows the 2% of rare highlights in their lives
nobody shows their real self-image on social media
ex. girls take 60 pictures to find 1 that looks the best
View Elon Musk Video:
http://instagr.am/p/BngoVcPg9Ek/
View Diddy Video:
http://instagr.am/p/BeGGTIEAuRT/
Instagram Users:
the most active people on Instagram are the ones who have a lot of psychological problems
the 70% of people in the world with psychological problems can mostly be found on Instagram
Instagram is full of narcissists
High Narcissism people
High Machiavellian people
High Psychopathy people
Instagram is the absolute BEST environment for:

high narcissism people
high proud/pride
posers and fake people (high narcissism and high mack)

very easy to fake a life/lifestyle

ex. fyre festival
ex. people paying Instagram picture studios in a private jet
ex. fake "entrepreneurs"

the users of the app are not to blame because it's basic human psychology; blame the engineers and developers and people that are profiting from our attention and psychological tendencies (Instagram/Mark Zuckerberg)
Instagram App:
designed by the SMARTEST people who understand human psychology and behaviour
designed to take as much ATTENTION as possible from you per day
their intelligence = millions of dollars for Instagram.. they're smart
social media and Instagram is constructed around envy and increases envy
Jealousy: sometimes motivational jealousy
Envy: social frustration and seeking the worst for people
Envy and Jealousy encourages repeat app opens and stalking (spending more time)
Love and Happiness DOES NOT encourage repeat app opens and stalking, the developers know this
Facebook engineers admitted that they built ADDICTION into the platforms by fostering negative emotions and pathology (envy, jealousy, etc.)
literally designed to be addictive and designed for compulsive checking and attention- addictive curiosity
similar to the slot machine at casinos
THE NEED TO CHECK YOUR PHONE = an addiction (not normal)
Instagram and Dopamine:
social media gets you to react (short-term dopamine)
short term dopamine driven feedback loops = detrimental to brain
negative neuroplasticity and significantly hurts dopamine receptors
you are being programmed to change your brain in a positive way for Instagram and a negative way for yourself
Instagram developers leverage this dopamine to get your addicted
There Will Be 2 Groups of Human Psychology In The World Soon:
People Who Use Social Media
People Who Don't Use Social Media
both lives will be significantly different
both psychologies will be significantly different
it will be the biggest binary group in the world
people with social media will have the most psychological problems
people without social media will have the least psychological problems
similar to 75% of the world having a disease and 25% being healthy
Instagram Brain Effects and All Negative Effects:
Instagram Changes Your Brain Through Neuroplasticity
Focus, Attention Span, Productivity, Time

decreases attention span significantly
decreases ability to focus significantly
you lose your ability to sustain concentration (neuroplasticity)
changes your brain
hurts productivity significantly
time-killer
creates compulsive checking habit
constantly checking phone = fragmented attention = neuroplasticity = can permanently hurt long-term ability to sustain attention and focus
hurts dopamine receptors in your brain

Socially

makes you less social
hurts social skills and fakes social life
decreases self-esteem
decreases happiness due to comparison
limits face to face interactions
creates a "FOMO" and makes you believe that you're out of the loop
social media makes you feel lonely on Friday and Saturday nights cause people are posting their highlights but never Monday or Sunday
What Instagram Usually Gets Used For:
social positioning in the hierarchy
competition
information collecting
sexual purposes
social life
Instagram & Mark Zuckerberg HOPE FOR:
lonely people
separated people
nerd-like people
socially awkward people
psychologically unstable people (narcissists)
..... because these kinds of people spend the most time on Instagram and provide significant profits
Social media apps will obliterate any threats that will decrease time spent on their apps.
The biggest threat to them:
a mature person
a healthy person
a self-aware person
a person who knows everything mentioned in this note
THEY NEED YOUR ATTENTION
THEY MONETIZE YOUR ATTENTION AND NEED YOUR EYEBALLS
ANYTHING THAT COMPETES WITH THEM FOR YOUR ATTENTION = THREAT
Facebook does not allow Google to crawl their database
Anything that takes you away from Instagram = THREAT
Resources & Other Related Material To Support My Analysis: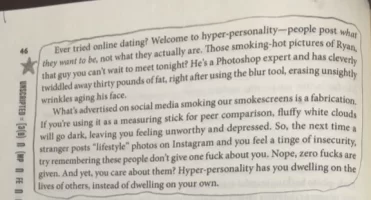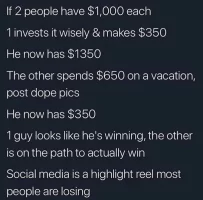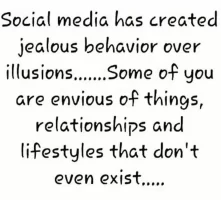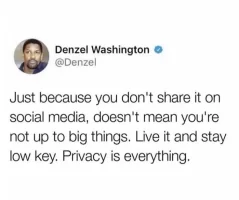 Don't like ads? Remove them while supporting the forum. Subscribe.
Last edited: