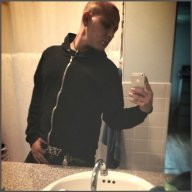 Legendary Contributor
EPIC CONTRIBUTOR
Read Fastlane!
Read Unscripted!
Speedway Pass
Edit.. i just reread my post and realized it read a bit like an advert. It's really not. I just wanna see these things made because they're cool as hell and I'm terrified of carpel tunnel from all the typing I do.. Anywho:
Okay, there's a legendary bizarre-looking keyboard among programmers. But they're no longer available. The company who made them went out of business, now people are scrambling to get their hands on them.
For programmers who spend hours on end manipulating code, these things are a dream come true.
They sell on eBay for $3000 each simply because you can't find them. People go crazy for them.

They're a bizarre looking keyboard originall meant for people with Carpel Tunnel. But when programmers found out how good they were for long coding sessions and hoe efficient it made them, they all started to get them. Until the company went out of business in the early 2000's
They look weird, but they are very popular.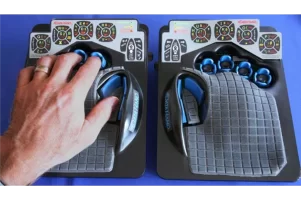 This keyboard works by having each of your ten fingers choosing the character you want by selecting from a radial menu. You can push down, or move north, south, east or west, and get a different character for each. The character you get corresponds pretty well to the character you get with the same finger when you move it from home position on a conventional QWERTY keyboard.
​
People love these things so much and are so desperate to get their hands on them that they're started making remaking them from scratch. One gentleman is about 90% done.
Re-Create the DataHand - Thumb cluster under development. Project 75% done.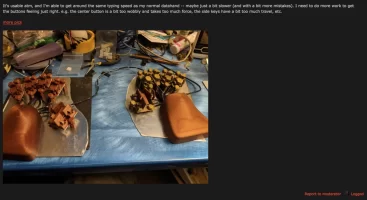 My friend is trying to make a version that's not so bizarre looking.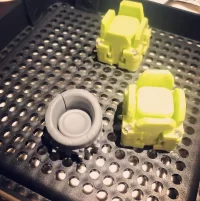 I have no affiliation with this aside from wanting one for programming. But my homeboy has a mailing list at electrunique.com, but anyone interested in this, I think it's a very viable opportunity to get in on. People go crazy for these things. Read these threads:
Re-Create the DataHand - Thumb cluster under development. Project 75% done.
I posted it to reddit and most people were really intrigued:
The ultimate vim keyboard? : vim
Blog post
My Keyboard


Anyway, figured I'd mention it in case anyone was interested. And if anyone here ends up involved.. i want one ;D
Last edited: