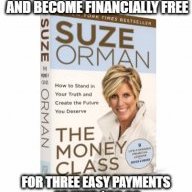 Contributor
Read Fastlane!
Read Unscripted!
Alright it's time to document - Brick & Mortar to Digital Marketing
This thread is intended to document my journey from slow lane scripted misery to the
unscripted
fastlane. The facts:
College grad - went late, graduated at 26, majored in something I didn't even care about (finance), got $30k in debt, hated it since starting in the business 7 years ago
Did myself no favors by getting married, wife pregnant, new house, and new car all within year 1
Further buried myself by having kids back2back - 15 months apart
Further buried myself by following the script - a little more money each year. Started at 37k, now make 90k. Makes it that much harder to get out, and DEFINITELY makes it that much harder to get spouse on board with getting out.
Read TMF in 2015. Saved, but ruined my life. I could never be a good employee again. Started brainstorming, met with a friend to discuss our fastlane ideas (he referred me to the book), researched various fastlane ideas only to retreat. Got caught back into the slowlane after frustrations with no progress
Read Unscripted in 2017. Awoken again. Man this life (how I'm living it) is bullshit.
3/2018 - Caught up with friend from 2015 over coffee. He did it. He literally executed and it worked. I didn't. Embarrassed. Ashamed. Envious. FU moment. It could have, should have, would have been me if I just DID SOMETHING.
4/2018 - returned to this forum. Completed a proper intro. Working to become more involved in the community. Decided on path to take.
Got a bit concerned, discouraged after reading a few threads about the Web design/Advertising agency space that maybe it wasn't "it". Caught myself doing it again. Chose to post how I was feeling about it: It's happening again. help...
While I didn't get a lot of engagement out of it, I did get a helpful piece of advice - the first step/business doesn't always have to be the one that gets you there. If it alone isn't "it", then it could help lead me to what is "it". Additionally, it can free me from the corporate slavery, getting me at least partially to the unscripted life.
Following
@Fox
closely for inspiration. Already learned so much from posts here, youtube, and facebook. Purchased 5 relevant Udemy courses to add to my toolbox. Good God, do you know how many different practical, useful, real world things I could know by now if my $30k was spent on these courses instead of that stupid a$$ degree?
Took on a friend's business as a case study. Started running some ads while taking a FB ads course so that I could action-learn.. is that a word? dunno..if not it is now.
His business is a high ticket leisure business - $300 on low end, $600 on high end. Told me his website is useless, FB page was pointless, and that all of his engagement was on Instagram. Dissected to see that he was doing really well in the first phase of the sales funnel - user engagement, but that for the level of engagement he had it was leading to essentially no sales. He wasn't collecting any info. Just follows and likes.
Created a landing page within his own website that just isn't listed in the menus (FREE). Got him setup with email marketing platform (FREE). Set up FB pixel for future retargeting (FREE).Spent $49.52 in ads. Ran shitty ads for a couple days til I learned a little more, fixed them up some, started getting better engagement but still nothing to write home about. Ended up getting 3 leads for him, 1 extremely warm. If he closes, its at a minimum 6x ad spend, but more likely based off of customer comments to be 11x ad spend. I still don't like the ad spend/conversion. Work to be done there, but he wants to continue - go figure.
Set up the automation email within the email program - 4 emails.
First one delivers the offer from the ad to collect info.
Second one checks in to ask how they liked the offer, and asks for a quick 5 question survey so that the future content can be tailored to them, but uncovers their history/likeliness to purchase. If they fill it out, they move to another list for weekly/bi-weekly updates/product reviews/tips, whatever. If they seem likely to purchase, he calls to see when they want to schedule.
Third email goes to those who don't do survey. Try again.
Fourth goes to those who again don't take action from third email with a discount to book with a deadline. If still no action taken, they simply go to the regular marketing list for weekly updates.
My job is done on the email front. All his deal now since he's not a paying customer. I'm sure it could be done better and I will learn that in my email marketing course I picked up. It's also up to him to send out the regular emails to the people.
It's not great, but it was something. Looking forward to pushing through.
-pw