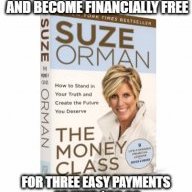 Contributor
Read Fastlane!
Read Unscripted!
User Power
Value/Post Ratio
139%
Oct 30, 2017
28
39
39
Hey everyone,
I'm having a tough time with getting started. In my
intro post
I mentioned how for the past 2 years I've continuously come up with ideas, started to pursue them, and then shut them down by convincing myself that it's not going to work or it isn't the right thing. Next thing you know, 2 years later I'm still here stuck in my job and have accomplished nothing.
I went on to discuss my idea of basically selling web redevelopment and advertising to help local brick & mortar businesses grow sales, and potentially transition in to consulting them on other aspects (i.e. cost savings, planning more efficiently, etc) once that trust is built. The idea was that I could grow this to a level where I could no longer manage it and then bring on people and eventually see my way out of the day to day and sell it.
The feedback I got here was positive, though it was only a few comments. It kind of gave me that validation that this is a legitimate path and that I was finally on to something I could take action on. I began doing so for a friend who has a small business where he offers leisure services that sell for $300-600 depending on which package the client selects. I began doing some FB ad and copywriting courses and then built his first ad-campaign. I made a handful of mistakes and had to revise multiple times. I spend $50 running ads for both page likes and link clicks to get them to a landing page to collect their info to begin the sales funnel.
I was able to get him 3 leads in this process, one of which is the warmest of warm leads possible. The customer literally typed into an optional comment box "i want to (insert the leisure service here) with you sometime. im really hoping to learn how to _____ during it as I've been struggling". This should be a definite close, and proves profitable to him.
I took the advice and started looking for threads that
@Fox
commented on for ones I could get some information from. I stumbled across a thread here (which I cannot find for the life of me now).The thread went a little something like this:
Someone was wanting to start an ad agency. They were basically shut down by 4-5 people talking about how miserable of a job it is. Somebody gave examples of really stupid customers who seemed to be just a big waste of time. Somebody, maybe it was
@Fox
or maybe
@Andy Black
said they were exiting ASAP. Then, much later on in the thread, possibly the 1 year anniversary of posting wanting to exit?, that same person said they actually got further into it and were actually glad they stayed. Hopefully this rings a bell, and if someone can link it so that I can save it I'd appreciate it.
Anyway, that thread really started to make me second guess this. I know my idea was slightly different with where I wanted to take it, but the fundamentals were pretty close.
Can I get some feedback? Should I be starting over or heading down this path? I've thought about pivoting to instead learning everything there is to know about this and then targeting small businesses to sell them a course that clearly walks them through step-by-step how to do this on their own, instead of selling them on doing it for them. That goes against my whole theory, though, that they just don't have the know-how, time, or desire to figure it out and do it on their own. Maybe I could offer both? Or is this just dead in the water?
Thanks for listening, any feedback is appreciated.
TL;DR: is selling web redesign/ad agency services a dead end path that will never make me fastlane/make me more miserable than the current slow lane? should i go back to the drawing board?