Bronze Contributor
Read Millionaire Fastlane
I've Read UNSCRIPTED
Speedway Pass
Jan 28, 2017
188
195
156
31
I was just wondering:
What your thoughts are on it?
Which one are you?
Whether it could be a potential tool to be used for hiring a certain type of person during job interviews?
Whether you think certain types lead to more entrepreneurial tendencies?
I got ENTP and it describes my natural personality quite well. I've developed other parts of my personality/skills, but this is what I'm like if I don't bother making the effort to change. I took it on this site:
Free personality test, type descriptions, relationship and career advice | 16Personalities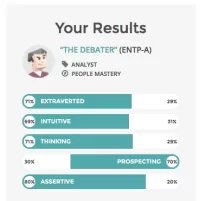 Here's what it is if you don't know:
View: https://www.youtube.com/watch?v=GyDjCTeRDzY
Thanks!