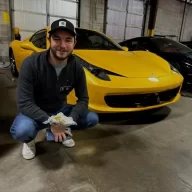 THE TRUTH IS OUT THERE
FASTLANE INSIDER
EPIC CONTRIBUTOR
Read Fastlane!
Read Unscripted!
Summit Attendee
Speedway Pass
You know what it's like to be too scared to take a risk with entrepreneurship right? We have all been there at one point or another. Maybe years later in your journey, you're still scared about some things.

For the typical wantrepreneur it may sound something like this:

"I would totally start this importing business, but I just don't think I can talk to overseas manufacturers. I'm too small for them to sell to me!"

So then you keep doing what you're doing and mentally masturbate about it for years to come.

For the more seasoned entrepreneur it may sound like this:

"I just can't raise my pricing even though I need to because my customers will be pissed! There will be a backlash and my business will collapse!"

Sounds like you either collapse from having no cash flow or you raise prices and things will probably turn out just fine. If not, your business collapses and that's alright too.

...

I had a life-changing conversation a few years back that completely changed my life for the better.

Here's what I learned:

No matter how scared you are to take the risk, it's never as bad as you have worked it up to be. Ever. You know what else is great? There is always a safety net on the other side. There will always be a net on the other side to catch you if you fail.

When taking a leap of any sort into an unknown territory you will most likely come out alive. Anything that happens in between is a learning experience.

I have moved across the country multiple times not knowing what would happen but a safety net appeared. I tried to start multiple businesses and failed over and over. There was a safety net that appeared. It always came just when I needed it.

You either live your life for someone else and then you die or you live your life for yourself and die.

The safety net has never failed me and it won't fail you either. Take the plunge into the unknown and have fun!
Last edited: