Hi,
Before i begin i think i need to share my story, i will try to do it as short as i can.
PART 1
2012 - i start my 4 years technical studies
2013 - i start my first serious job, my bro give me a chance to join his CAD team whose prepare building management system
that was pretty awesome to earn such good money 5k montly during the studies
2016 - for over year i feel like i am chocking here, everyday my stomach was squeezed at 7:55 under our office building, i feel i need to go my own path
i visit our local mountains for holiday, reach some summits, spend time with nature, feel the freedom and i have made a decision to leave this job.
For my whole life i was very active person. I love sports and during 2013-2016 i did many diet, fitness, sport courses including personal trainer course
After the holiday i found a job in one of our local fitness club as a trainer.
2016 - early 2019 - i work as a personal trainer, i like my job, i meet many amazing people, mostly i have nice clients (except those who think that taking a pill will resolve 10 years without any activity), i earn nice money, depends on customers from 6-10k.
2018 - i read FASTLANE and this blow up my mind
2018-2019 - i fight for my mothers life, unfortunately she lose with cancer. I feel i need go back to normal life as fast as i can.. that was tough times for me.
1 week after funeral when i ends my sessions with customer i drive back home, a man cross the red light and i hit his side frontally per 70km/h (~45mp/h) speed on the crossroad.
I have some serious injuries of my body which caused that i can't work for next two months.
During recovery i realise how risky my job is. I stop earning when i stop working, that was so stressful for me and my wife. I try to think how can i end my relation with job/time and earn money 24/7.
Now i will report my story with some inclusion (underline) which are my current thought after I read book and made many mistakes and realise that how my business break CENTS.
2019 - i import first part of electronics from Alibaba
(now i know that i break ENTRY barriers anyone can to that)
and i start selling only via our local marketplace
(low CONTROL and i was addicted to one sales channel)
/ parallelly i still was working as a trainer
Each month i try to expand my offer importing new products. At the beginning my margin was very good 200-300% depends on product.
At the end of year during X-MAS boom i reach my record month sales close to 100k in Dec which was shock for me that i can do it with only few products.
2020 - C0VlD starts in EU, my customers were scared about it, gyms become closed, one by one my customer leaves me.. That is why i decided to fully focus on my e-commerce business.
2020 - i read
UNSCRIPTED
and this blow up my mind again
mid of 2020 - i realise how risky my business is, i enter inside very competitive market: GSM accessories, cases, small electronics
(i break the NEED rule caused i did not create any value for the market, every one can sell what i am selling, i cannot control the products, i can only fight with perfect execution, proactive customer support and i think my customers appreciate that)
Each month i feel my margins were a bit melting due to high competitive, they were fighting mostly with price so i was losing a clients. But still i do my job, add new products, SHOCK my customers with positive energy and proactive support.
During this time mostly after i read
UNSCRIPTED
i feel a bit depressed that my business does not match
CENTS
and this feeling is up to now.
end of 2020 - Few years ago in 2017 when we have wedding, my wife and i prepare many wedding decoration on our own. We just want to save money but we realise that how time consuming it was. Wedding hall owner loved our deco and ask where they can buy it our wedding guests also appreciate them and told us that they have never see such beautiful decoration on wedding tables. After the ceremony we sell them so quickly and i thought that is a sign and could be a good business idea but it was only an idea nothing has happened until end of 2020.
I talk with my wife that we should try it and become a manufacturer. As it was a C0VlD time and all weddings were banned here we could learn and prepare for next year. During the November 2020 i have an idea to update our decoration attach small changes and sell them as Christmas Decoration. And that was good idea!
First orders has come and after that we have so many of them until Christmas Eve. We were sleeping few hours a day, manufacturing, packing, customer support that was nice rush! We feel the power, people appreciate and like this product so it was the best motivation for us. Also income feedback was motivating. We did 15k with simple deco products.
2021 Q1 – In GSM business sales drops down referring to previous months but surprisingly it is 10.4% raise than in Q1 2020
2021.03 – Two best selling, with the highest margin product was banned by our marketplace due to their law/policy requirements, it takes me about 2 weeks to resolve all issue but still it is uncertain if they repeat it again in the future.
That was ultra stressful for me and why I didn't create my own store website earlier? I don't know! I know I read similar story in Unscripted but it looks I was blind, ignore a problem and thought that I will never experience that..
2021 Q2 – Begin of Q4 doesn't look good there are about 50% less order than in Apr 20' and May 20' (it was the beginning of C0VlD, so all local store was closed). Now shops are getting opened, weather is better, customer were missing local shopping and want to spend more time at fresh air after the winter.
I finish my shopify store right now and without any promo actions like Ads i have 3 organic orders.
I also decided to start cooperation with GSM wholesaler so i can increase my offer faster than i import it from Alibaba and increase traffic in my marketplace. From May to Jun it gives me an extra 1100 and it current month it looks much more better and i double it to 2300 right now.
Margins are not so high 10-15-20%, i know i can't control the product, and indirectly i am working for someone else brand.
05.2021 – let's get back to our wedding / x-mas deco. After Christmas time the sale was 1-3 order/month it was offseason so I understand that. Mostly returning customers.
In May my wife produce decoration and i send our first bath to Amazon FBA, I set some Ads and until now we have 17 FBA orders. We don't sell in our local currency on Amazon but in EURO so the returning income is much more better about 2k in our currency. Unfortunately still without any customers reviews so i don't know if they like it, or they have any feedback for us so we can improve product.
I like the process of manufacturing. I need to focus on every factor: material, manufacturing process, finding people who can help us with some tasks, product packing, selling, promotion.
It is much more harder and fund consuming for each part. We have one local material supplier but we also find one in China the samples were promising but MOQ is killing us.
Also it gives me a feeling of CONTROL and I believe it is much more FASTLANE than my first e-commerce story.
2021 Q4 – I will reach 1 000 000 sales on my GSM e-commerce business
PART 2
And now the story begins… If you preserved to here i appreciate and thank you that you read my timeline. I think it was necessary to show you my business/mind process. I know nearly in the future I can tell also my Fastlane process.
As
@MJ DeMarco
said first you should be monogamic.. and I strongly believe and experience that. Day has only 24h.. I see how these two tasks are time consuming for me, also i have many other ideas in my mind but i know i need to focus on one business.
I have few dilemma which are getting me out and are a source of stress. I know nobody will take responsibility decision have to be made only by me but i strongly believe that this conversation could show things which i don't see or comprehend my mistakes.
I run my ideas through
Grade My Business Idea: Business Ideas and Opportunities Rated Fast
after that I feel really bad.
As it was in
UNSCRIPTED
my business is paying the bills but it is really taught for me to reach higher acceleration/sales except Christmas time. Currently it is my main source of income.
GSM business
– as I expected mostly i break and ENTRY/CONTROL/NEED
CENTS
:

ENTRY – I don't know how I can improve this factor
CONTROL – I create shopify store and now I start working with developing it and try to divide traffic between marketplace and store
NEED – I think here is the biggest issue. There are lot of local / online stores so I am looking like another pizza point in town.. serving the same pizza but with better service
Okay everybody have 1-2 mobile phones (SCALE CENT) so they need cases, tempered glasses, chargers etc. but i don't know how can i highlight here.
Referring to a product it is really hard caused I break ENTRY and everybody can buy this type of product from Alibaba or wholesaler and sell it. Mostly here customer check the price and the lowest win.
That is why I try to highlight with proactive customer service / helpful complaint process / easy return / free delivery
What i think about? Try to give people any value:
Record video on YT with some test / product launching / how to replace glass etc.. / test in taught conditions
I check competitors and the most regret was on customer service / long complaint process / long phone, message answering - that is a part which i push strongly from the beginning
As i understand from Unscripted the only think that could save me is a perfection of execution
I have no more ideas..
PRODUCTOCRACY
– currently it is not but i have one idea what i can do to highlight/ innovate. Maybe it is not fully related with current task caused it is a service related so i need people to do that but i can use products sold in e-commerce to use them as a spare part in service.
I think about GSM mobile repair point accommodated in deliver truck. There are many local points here so creating another one will be the same mistake I did with ENTRY.
My idea is based on direct repair close to the customer house/office in the truck if that is possible or if the repair need some another spare parts we will receive it from customer and repair during 2-3 days. It could be scaled into another cities but will require another car and specialist. I can recommend or even use parts which sale via e-commerce to my customers after the repairing process.
DECORATION BUSINESS
– it looks much more better on grademybusiness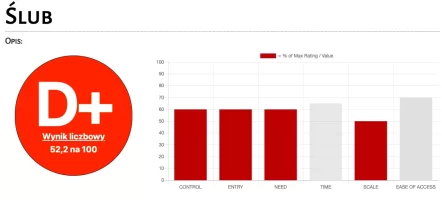 ENTRY – full manufacturing process is on my own (materials order and components, manufacturing, marketing, sales), creating own brand
CONTROL – sales via our local marketplace / Amazon FBA / Shopify / Instagram (I think good photos linked to shop could be a good idea for this industry), I have control of the product, branding, packing. There risk is from textile supplier that the material could be out of stock so i think we should diversificate them and work with few of them.
NEED – nobody here are manufacturing this type of decoration from natural material like jute or cotton, mostly from sating or other artificial textile. There are some similar product which are selling via FBA from Chinese suppliers and are low quality and truly looks bad.
SCALE – it could be used during Christmas / Wedding / Birthday so it is not daily used rather yearly / and achieving cash flow will be difficult but I think about creating manufacturer website and try to start B2B cooperation with some huge stores is a good idea? It won't be an easy task but I believe it is possible to find any path to go inside any local warehouse/store.
PRODUCTOCRACY
– it is nothing innovating, simple decoration products made from natural material. After first Christmas sale we have around 300 orders and sale around 3000 units (we are selling in 10/20 sets one order was on 450 units) but we couldn't offer 24h shipping caused of manufacturing process which was time consuming for us and we were learning it. I think if we can offer 24h shipping now during x-mas we will reach higher sales level than in 2020. I want to prepare and create some overstock.
And agin after this long history top of the mountain below:
I don't know on what should i focus and which monogamic to choose, or even I should quit all and think about something else?
Develop on my current GSM e-commerce business where i break many CENTS and try to return them into more CENTS way.
Leave it as it is and let this business live organically just to earn some money to live and push decoration business.
Jump on depth waters and fully focus on decoration business.
Revise my own thinking, business approach, learn more..
I wish you all a lot of smile, thanks for all answers and if you are reading this just smile!
Cheers!