Contributor
Read Fastlane!
Read Unscripted!
User Power
Value/Post Ratio
74%
Nov 19, 2021
39
29
During the last few years, I have developed an application that will help entrepreneurs and freelancers to increase their productivity and reach their
goals
.
I want to introduce this to you because I think you would like it. The name of the application is: 'Quotodoro'.
Quotodoro makes it
easier to plan
your work and
focus on the tasks
ahead. It will stimulate you to complete more work in a shorter period. Quotodoro takes into account that people have
different types of tasks
, different ways of working and preferences when to do specific tasks. Everyone has long-term
goals
, but often it seems difficult to reach them. Quotodoro makes it easier for you, scheduling your tasks ahead and keeping you on the right track.
In a nutshell, Quotodoro has:
Configurable timing
Smart Breaks
Supports Energy Levels
Automatic rescheduling
Reoccurring tasks
Projects & goals
Reports
How it works
In the base, Quotodoro is a very smart week planning board. The application helps you change your working routine to make it more productive.
At the start of the week, you plan which tasks you want to do and when. Splitting longer tasks into shorter ones is recommended to get the best results. Doing this has at least three benefits:
You overthink your task again. It gives you the possibility to take extra work into account. It also trains you to make better estimations for the future.
It is easier to keep your focus on a short task.
You can complete the task. Completing a task stimulates you to pick up the next task. When tasks are well-defined and short, it is motivating to complete many of them every day.
Although you have scheduled a set of tasks to complete each day, Quotodoro focuses on completing a fixed number of quotodori per day. By default, a quotodoro is a 25-minute block with an optional 5-minute break at the end. The Quotodoro software gives you the
flexibility to change these times
and to break after one or after more blocks.
Focusing upon completing quotodori instead of tasks has the following benefits:
The timer starts counting as soon as you begin a task. Every 25 minutes, a quotodoro is collected. You get rewarded for working, not only for completing tasks.
When you have collected your daily quota of quotodori, you are ready for the day.
You might think: 'This is not much different from what I am doing right now. You have only renamed hours to quotodori.' Partly that is true, but the Quotodoro software is
not about hours or quotodori
; it is about a
mind shift
on how to approach work.
The software is made to help with this and change your way of working. Quotodoro gives you the tools to stay more focused and thereby increase your productivity.
The long-run
Increasing your productivity will get you a long way, but you might need more to reach your long-term goals.
Planning out a long-term goal helps considerably for achieving it. The massive chunk of work becomes more and more manageable. And as long as you follow your set process, you will reach your goal step by step.
Quotodoro facilitates projects and goals. Adding your tasks to projects and goals gives you the possibility to get a long-term overview of your progress.
It also gives you an
overview of the time spen
t on a project or goal. This can be useful when you
create invoices
for your clients.
And finally, using projects and goals will reduce your weekly planning time. All the reoccurring tasks of a goal or project can easily be added to the week planner board with one click.

All these tasks were added with one click
If you want to read more about Quotodoro and how it can help you reach your goals, you can go to Amazon or download the PDF on the website.
-
Amazon Kindle
-
Download PDF
Use the promotion code
FASTLANE
for an extended trial period of 28 days. This will give you ample time to try all the functionalities of Quotodoro. When you decide to sign up, you will receive a
5% discount
on the monthly subscription for the duration of your membership.
- Website:
Quotodoro
If you have any remarks or questions, please let me know. I hope to welcome you soon.
Ed
Screenshots
To give you an idea of the application, I have added two more screenshots.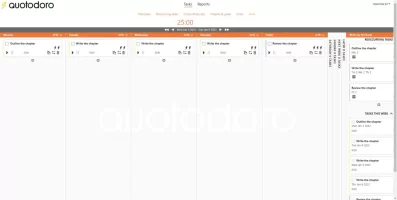 The week planner board shows the project on the far right. The project can be shown on a separate page. The rest of the columns are filled with the tasks for this week.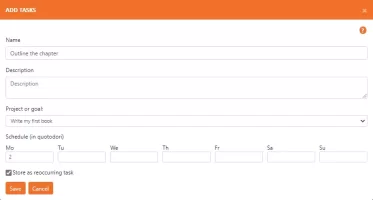 Adding tasks can be done for multiple days at once. When a task is
marked reoccurring, it is stored for future use.
Some interesting articles
These articles discuss the techniques that are supported by Quotodoro.
Pomodoro technique
The Pomodoro Technique — Why It Works & How To Do It
Articles about getting in the Flow
The Flow State: How to Enter Your Brain's Most Productive State
How To Reach Flow State (Using 10 Flow State 'Triggers')
Energy levels
When to work: How to optimize your daily schedule for energy, motivation, and focus