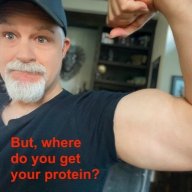 I followed the science; all I found was money.
Staff member
FASTLANE INSIDER
EPIC CONTRIBUTOR
Read Rat-Race Escape!
Read Fastlane!
Read Unscripted!
Summit Attendee
Speedway Pass
Jul 23, 2007
35,614
142,057
I'm happy to announce The
Millionaire Fastlane
is now available in hardback on Amazon, and it is the 10th Anniversary Edition!
Yes, it has been more than TEN YEARS, one decade, since I wrote The
Millionaire Fastlane
.
This edition has been mildly updated to reflect today's changing times, from crypto, to COVID, to inflation, but it essentially is 100% the same philosophy that I wrote about 10 years ago. The information in the book is just as relevant today, perhaps more relevant than a decade ago.
The
Millionaire Fastlane
: Crack the Code to Wealth and Live Rich for a Lifetime [DeMarco, MJ] on Amazon.com. *FREE* shipping on qualifying offers. The
Millionaire Fastlane
: Crack the Code to Wealth and Live Rich for a Lifetime
Unfortunately Amazon is selling the book at full retail price and it might take a few weeks for delivery.
If you'd like to get a copy signed (US Only) please place a pre-order at Viperion Publishing here:
** NOW AN INTERNATIONAL BEST-SELLER Translated and Published Worldwide In Over 25 Languages ** HARDBACK, TENTH ANNIVERSARY EDITION Has the financial plan of mediocrity and survival become your plan…
www.viperionpublishing.com
Because I have to sign and process orders from my website directly ,
PLEASE ALLOW UP TO 3-4 WEEKS FOR ORDER FULFILLMENT.
Also, if you order from Viperion, please follow up your order with any personalized notes you might have for your signed copy. Instructions should be detailed on your order copy. Thanks and happy New Year!