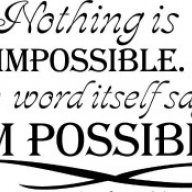 Bronze Contributor
Read Fastlane!
Read Unscripted!
Speedway Pass
In this thread,my journey to
unscripted
will be documented.
Found this place almost two years back and read
millionaire fastlane
around that time as well.I was committed but sadly not to the process but to the event of making it happen in easy way. Up until recently I couldn't recognized myself as an action faker.
If there is an award for action faking then it is mine
.Yes I did that much of action faking.It was a great lesson for me anyway.It goes into my wisdom nuggets.
As of for how am I going to break this habit action faking, I am going to take massive action towards the destination I am committed to move thus committing to the process this time.My destination is the land of extra ordinary and
unscripted
.
During last year I found a problem that I went on to solve but me being a stupid- event driven mindset wantrepreneur, I stopped the process and revert back to the next shiny object and guess what? My progress as an entrepreneur isn't that much.And this problem that I had found still bothers me a lot.Yes this was a problem I had and still I have it.It is this problem I am going to solve this time.Hell or high water I am going to make it happen.
Last year when I went on to solve this problem, I hadn't read the
Unscripted
book which is the only book I need as an entrepreneur and the one which I will constantly refer to in this journey.
So does this abide by C.E.N.T.S ? Let's see.
Control : Yes, this solution can be offered at more than one place.Since it is a software related solution, the solution could be offered at many places. And there will be no one person or one something that could kick me out of the business.Anyway here I have zero to minimum amount of risk as the solution is a software solution.
Entry : Absolutely YES. Unknown variables barricading the barriers are plentiful and what I have to learn to develop this solution is definitely going to give me an absolute hard time entering to space.It's because of its difficulty I got the shiny object syndrome last time and pulled myself out.But now I know that more difficult it is to create something, better the opportunity is and that with process-law I can achieve anything.
Need : Yes this is a real problem and I am one of the human in the target group as well.Last time I did a survey and it was pretty clear that there was a problem that needed to be solved.
As of for value attributes for my product, I am still brainstorming them.As I myself have this problem I know most of the attributes.
Time : Absolutely.Since this is a software solution I don't need to worry about this that much. As long as I add value to people this commandment will be satisfied.Once the
productocracy
is achieved I have nothing to worry about this
Scale : Majority of the world have this problem.The solution is helpful for people living in many continents.Law of affection could be achieved as long as I add relative value and tap into the
productocracy
.
Along with this I am doing freelancing in upwork which again halted due to my action faking.So I got to start that as well.With value vouchers I attract from there I could have good enough money system that could help me to pay my bills.Still I am living with my parents and doing an associate course in software development which I started this year.And yes I am pretty much broke.
So my next step is poking the market which could be done by creating a non-functional mock prototype.
At the current moment I know only very basic of programming.But with growth mindset and enough consistent work, I could develop the prototype by the end of this year.
Thanks for tuning in