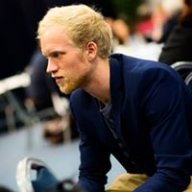 Contributor
Read Fastlane!
Read Unscripted!
Hi!
Awesome that you read this, I am really excited to start this MFL journey!
To get started I just want to tell you guys a short story on how I changed my perception of life...
It's not even 3 years ago when I started to go to university, I thought this was the way to go and I was so proud of myself that I was 1 year ahead of schoolyears than my twin brother (Everything is a competition between us).
I started going to school and a new chapter of my life had begun... Not long after that, I realized that I F*cking hated school. In short: I got depressed because it was not the direction I wanted to go... I actually did it for my parents.
Eventually, by talking a lot about my misery with friends and with an old woman (In her 70's) who actually listened to me, I got out of my depression and found a way to improve myself and my direction in life. I started reading books and caring less about what my peers were thinking of me... Strangely enough, I did not quit school, simply because I did not really know that that was an option. I thought I would die if I didn't go to school.
I found challenges within my school which I actually liked and I was curious about the path it would take me and every time that I found it soul-crushing, I kept myself going by finding some bright times in my study that would come.
One of those moments was me studying abroad in Finland for half a year. I went on to study sales and business over there and this was simply one of the best decisions ever.
Because I was so far from home, I started to think more independently, I saw the world through my own eyes, I discovered new ways to interact with people and it was like I was building a completely new life on my own!
To make a long story short, I started taking a course of Tai Lopez, the 67 steps. Here he explains that it is crucial to get a mentor and so I created a list of mentors I really want to be around.
I made an 18-month plan on how I could get to those mentors and actually within 2 weeks I had personal contact with one of them.
I just wanted to give him value and to help him with his business... but in order to talk to him, I decided to sign up for one of his 1-on-1 calls... Little did I know that for him it was a sales call, while for me it was a get to meet a potential mentor call... All of a sudden he was selling me his course where he would teach me how to build chatbots, and create a business out of that...
I thought ''sure, I'll pay around 500,- to come close to this person'' Then he told me it was 5 times my budget...
I convinced him to give me 1 day to consider if I would do this or not. I talked to an incredibly smart professor in that school (I was already giving him as much value as I could give him, in exchange for his rich insides) And he asked me 3 things:
- Can you afford it? (Yes I could but never made an investment as big as this one)
- Do you think it's a good course? (Yes, This guy already gave a lot of value, so his course is probably good)
- What does your heart say? (My heart says I should do it and say F*ck you to my parents who would strongly disapprove)
And so, He did not give me the answer, but questions for me to think about. I was as insecure as it can be... On top of that, came the fact that I had just purchased Audible, and my very first book was ''The
millionaire Fastlane
'' by MJ Demarco.
I was walking home from my conversation with the professor, overwhelmed by the decision I was considering, listening to the MFL. And all of a sudden MJ speaks to me personally... Ranting about how it's never the right timing and that if you really want to achieve something, you should go for it. What is the Worst Case Consequence Analysis? What happens if you fail? Is that risk worth it?
The next day I made the investment in the course while I was literally shaking with adrenaline... I was thinking to myself ''What the F*ck am I doing''... But, because this investment hurt me so much financially, I was dedicated to make this investment the right one and so I started to take MASSIVE action... within 13 days, I had made my investment back 4 times! All of a sudden I had more money than I had ever had...
Now, I am aware of that this is just one event out of everything I still have to accomplish, but this opened my eyes for the rest of the world... All of a sudden there were so many opportunities... All of a sudden I could see how I could bring value to people in exchange for their fuel units/value vouchers.
The best decision I ever made, was talking about my problems with this 70-year-old woman... Because I know, that the reason I was able and am able to build this business I now am working on, is not a one-time event, but a Marco-process, fueled by ever-improving micro processes!
MFL helped to change my life, I'm positive this forum will as well!
Thanks for reading!
Erik