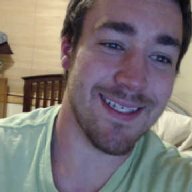 Bronze Contributor
Read Fastlane!
Read Unscripted!
Speedway Pass
User Power
Value/Post Ratio
102%
Jun 5, 2014
349
357
33
Hey Healthy people,
I wanted to make a thread that is gold worthy. But it requires everyone to pitch in. The
goal
here is to gather everyone's methods of eating healthy as cheap as possible. Doesn't mater if you are Paleo or Vegan or anything in between. Let's hear where you shop, do you use coupons? What specific foods do you buy and how much does it cost per week? Is it a bland diet or one rich in variety? I'll start with the tips I've learned over the past few years. I'll even break down the nutritional content for you. If this thread doesn't blow up then at least Ive done my part.
Protein: Beans, whole grains, legumes, lentils, peanut butter (I get a minimal ingredient kind that is just peanuts and salt, requires stirring but cheap) Tempeh and Tofu are also high in protein. Truenutrition.com has high quality protein powder for cheap. They have a large variety of plant and animal protein that is very cheap if you don't add any flavors or boosters. I don't buy meat really because the cost per gram of protein is about 5x the cost of plant sources. (This would be an opportunity for someone to say where they get cheap meat)
Carbs: brown rice, whole wheat bread, sac of potatoes, sweet potatoes, oatmeal, whole wheat pastas, beans, bananas, apples, peaches, grapes, dried reduced sugar cranberries (very high in anti-oxidants), and other fruit if I can find it cheap, usually frozen bags of fruit are cheaper and last longer as well.
Fat: Once you spend the money on good fat sources they have a long shelf life and you don't have to buy them for a long time. They are a little more expensive but the nutrition you get is worth it. I buy pumpkin seeds (high in protein), flax seed meal, hemp hearts, chia seeds, walnuts, Brazil nuts, cashews, coconut flakes, pine nuts, avacados (one exception to the long shelf life rule but you can refrigerate or freeze them (peeled) once they start to get too ripe).
Veggies (micros): Baby spinach (freeze this for smoothies right before it starts to go bad), frozen bags of veggies (all cut up and prepped for you and you can stock up on a variety for very cheap and keep it for a long time), other veggies I'll buy fresh depending on what I need for a given recipe, this is the only weekly grocery after you have everything else stocked up.
Freeze! Peel you bananas and freeze them for smoothies, freeze veggies before they go bad, this will save you a ton.
Sources: I usually get everything from just BJ'S and Publix(local grocery store) and I don't worry too much about coupons. Also amazon pantry has stuff for good price if you can't find what you need at the store. Local farmers markets can be pretty cheap for fruits and veggies as well.
Recipes: I use The How Not to Die Plant-based cookbook. (Seems expensive at first but once you kitchen is stocked you are good for a long time. Anything processed and easy is going to cost you extra. You are paying for the processing and ease of use.
Other things you may need is sauces, nutritional yeast, spices, etc. all of which are a high upfront cost but a long term yield. After all of the stocking up I usually spend about $50 a week to feed a family of 3 and the additional cost when you run out of something. (I'm a nutritionist and I've plugged in all of my food to chronometer to make sure we are meeting all of our nutritional needs.) I also take a B12 supplement which is $5 for a few months worth.
I hope I covered everything. Excited to hear everyone's tips so we can all grow and save.