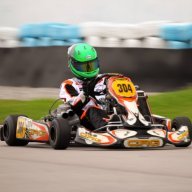 Bronze Contributor
Read Fastlane!
Read Unscripted!
Speedway Pass
Hi everyone,
It's been a few years since I've read
TMF
and joined this forum.
I've been doing freelance writing for a certain niche, earning few hundred dollars a month on average. I'm getting clients coming to me but have to turn away work as I'm very busy with my racing career.
My goal is to be a professional racing driver and my awesome parents are helping fund my season in Formula 4 right now, which I'm incredibly grateful for.
However it's really a stretch for them and mysself. Racing involves tons of travelling, training and intense focus. Meaning that some days after racing on track, it's close to impossible to have any time or energy leftover to do any business work.
Freelancing only scales with time, which I don't have much of leftover. So I've got to focus my energy on building something that can work without me.
My Dad has a clothing brand and his products are selling pretty well. We're not selling online, but our simple 3 page website gets a few emails every month from people asking if they can see our catalogue or order online.
With a NEED discovered, I'm going to start working on channel expansion by adding e-commerce on top of our wholesale operation and two retail stores.
I know very little about this business and the fashion industry, but I see potential ways to help. Will be documenting my process of launching and growing this business .....