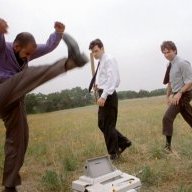 Freedom
Read Fastlane!
Read Unscripted!
Hello everyone,
I am very thankful this forum exists. After reading Fast Lane I came here to find like minded people; people who understand when I say I would rather die than work my 9-5 cubicle(jail cell) the rest of my life.
The pain of limited freedom, like not being able to spend time with my children because I am stuck in a cubicle, finally exceeded the pain of building something on my own in my limited time aside from work/family/responsibilities...
I have pursued entrepreneurial ideas for a few years but nothing ever took off probably due to my lack of consistency, poor choices, bad influence from friends, the usual list of excuses....
But this time things are different because my children are reminding me how quickly life is passing and that I do not have the time to f*** around. If I don't take action now I will settle for massive regret in the future. I have been taking massive action, and that led me here, to this great forum.
About me: I am a full time SW Engineer, stuck in the grind of 9-5, buried in student loan debt. The guy that sits in the cube next to me is a 63 years old engineer still forced to work, he has told me, probably due to poor money management choices. Nothing against him, but I will NOT be that guy. He wants to leave but he cannot. That is slavery. My number one goal is to gain my freedom by dropping the JOB. I hope to be a shining example of MJ's philosophy. (
@MJ DeMarco
)
With much respect to everyone here,
Edwin
Last edited: