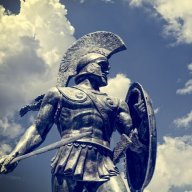 Contributor
Read Fastlane!
Hello everyone.
I've f*cked up and I don't know how to
technically
rebound from this.
Long story short, I intermittently post in my
progress thread
, but a lot has happened since my last post. But let me start from the beginning to clear things out:
Some time ago, I was having dinner with people from the company I work for (grilled meats and beer), and we were talking. Topics came and went, and somehow we ended up talking about personal projects we want to pick up. And i stated mine.
I was told by one of the company directors (paraphrased): " Do you want to do it? Go make it. The company will buy you the equipment you need. You can even take an hour off of work to work on your project". And so I did. ~800 euros of equipment later and never taking up the offer to do it on my worktime, I went through three iterations of it.
On the 24th of February, i had a chance to showcase my product again at a crowd of ~40 people. I even got two people that were interested and had industry connections. Got both their details. I've made moves with them to see what is needed to penetrate the market. Got feedback too, for the next iteration. I was genuinely happy
BUT
While i was going around showing and exposing people to my product, the company owner stated: "Since you work for us it's ours, not yours". I contested this, by saying i do this outside of company time, and he retorted by saying (paraphrased): "We (the company) paid for the equipment and you're using our premises I then stated i'd be buying back the equipment, so the company has no claim over it, and that what he said was F*cking insulting.
He kinda went back, saying that it'll be a 50/50 split, and that it was meant in jest, but i don't see that even remotely as jesting.
I talked to the person that i had the original talk with, and he said to the both of us that (paraphrased): "Don't worry. You won't be getting a bad deal". Since then i've been pressing for answers. To see what they think their position is pre-hard proof. He's been answering with: "We'll talk about this once you make a product" and at points he has mentioned that if the product goes well, a new company will be formed, which will be a subsidiary of the company i'm currently in, and that i'll have full control over the product and its design.
Since that day, any new purchases that have been made have been out of pocket, so as to reduce their equity. Currently the tally stands to about 800 to 300 euros. Ever since that day, i've felt no love and no passion towards this endeavor, and i've been trying to understand how to get 100% ownership off of this.
This is the first time i'm working on something of my own, so i don't really know how to do my due diligence to assess the situation. But my gut instinct tells me something is horribly wrong with this... Maybe because the guy who told me to go do it (on that day of eating) didn't explicitly state what this funding would entail. Maybe because i never knew how to handle this appropriately. Maybe for other reasons out of my insight.
Do i keep on going? Do i withdraw unilaterally from this, possibly breaking my bonds with those people? Do i kill the project altogether? Can i get ownership without burning bridges? I know that they'll have the money required for scaling and outreach, but I honestly don't know. They guy has built this company i'm working for while still being employed someplace else, and to my understanding, similar dealings happened between him and his now parent company.
But i don't know business, My family were government salarymen.
@Black_Dragon43
and
@Speed112
have already given me a solid piece of advice: To get ownership of this pre-hard proof product. And they are correct.
I'm just extremely split on weighing pros and cons though. I've not done my due diligence to understand the pros, and a big part of me is honestly scared of losing this job/position, for a few reasons: Not required to be tested/vaxed/masked in an EU country, which is the last vestige of sanity for me. We have to show same-day negative test
plus ID
to get into grocery stores, and we could not even go out to any venue for any reason.
I also get to work on deadlines and not to be on the clock, so i can be flexible with my schedule. The starting pay is also 25% higher than comparable positions.
But i can't help but feel split on this. This is my project, my aspiration, my possible vehicle. It might not work, but if it does, it has the potential to be a fastlane venture. So i'm here, asking for help. What do you think of my situation? What can i do to improve it?