Limitless
Read Fastlane!
Read Unscripted!
Speedway Pass
User Power
Value/Post Ratio
432%
Nov 14, 2011
2,486
10,735
Book Suggestion
Build a Business, Not a Job by by David Finkel & Stephanie Harkness​
A fellow forum member lent me this book the other week and I read it at the airport before my flight and on my plane ride from Denver to Miami the other day (quick read).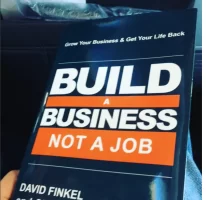 I would definitely suggest this book for anybody who already has a business up and running and has been actively making sales for some time now.
https://www.amazon.com/dp/B0733J5S65/?tag=tff-amazonparser-20
The main premise of the book is to transform your business from a Level 2 (you as the owner are required to make most of the business decisions) to a Level 3 (owner-independent) business. Whether you want a leadership team to run the business for you, you want to work by choice instead of having to work on it, cut your hours while maintaining business growth, or you want to sell the business through one of the various exit strategies; creating a business that operates independent of the owner's
necessary
involvement is the direction this book takes you.
This is how to systemize many aspects of your business to make more money while working less hours (in the legit type of way). The authors help overcome one of the main objections of making this transition (giving up control of your business from you controlling it as the owner ----> to the business systems holding the control). This frees up more time and takes you away from the low-level business tasks, so you can either have more free time for yourself or spend that time making higher-level business growth decisions.
The authors of the book have all built successful Level 3 businesses themselves, as well as one of the authors runs a consulting firm that has helped businesses grow from 6-low-7-figure per year businesses to 8 figure per year businesses.