Platinum Contributor
FASTLANE INSIDER
Read Millionaire Fastlane
I've Read UNSCRIPTED
Summit Attendee
Speedway Pass
Nov 30, 2018
1,250
3,756
868
Atlas Shrugged - Week 5: Chapters 9 & 10
Book Discussion Guidelines and Schedule
Hope you enjoyed your holiday festivities but if you didn't, don't worry we still like you.
Welcome back! I missed you! WTF is going on in this book?!?!???? My notes are crazy!
Chapter 9: The Sacred and The Profane
Hank and Dagny talk about the act. He says "I held it as my honor that I would never need anyone" and "It's depravity - there is no height of virtue that I wouldn't give up for it." Then Dagny who has a strange glittering serenity laughs like there's no problem with Hank despising sex w/ her and says "I am an animal who wants nothing but the sensation of pleasure which you despise."
Taggart brings 19 yo Cherryl Brooks home, rants about stuff, then drops her off. He has no desire to experience pleasure.
Orren Boyle, Dr. Floyd Ferris, Bertram Scudder and Mr. Mowen are ALL pissy.
Hank and Dagny go for a drive and find the Magical Motor of Awesomeness that will save the world if only they can find its creator. We MUST find the Creator!!!! He will save us alllll!!!!!!!
Chapter 10: Wyatt's Torch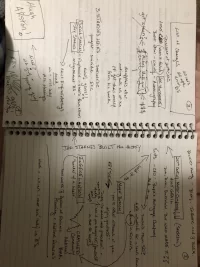 Dagny and Hank play detectives and they find out a crapload of stuff.
okay I'm gonna try to put this in order...
Eugene Lawson "banker w/ a heart" in charge of Community National Bank.
He had bum "heartfelt" investments (INCLUDING the factory) all over the state of Wisconsin. The bank goes bust. He now works at The Bureau of Stupid.

Mayor Bascom "you're either virtuous or you enjoy yourself" buys the factory for a steal. Then he sells it to..

Mark Yonts head of People's Mortgage Company who then turns around and sells it TWICE to "suckers from South Dakota AND as collateral for a loan in Illinois"
​
Meanwhile, the former President of 20th Century is a guy named Lee Hunsacker who wants to write an autobiography but burns the stew. Mostly he blames a very successful guy named Midas Mulligan for never loaning him money.
There are three heirs to Jed Starnes (the guy who originally built the factory)
Eric - psycho suicide
Gerald - flophouse - steals from a bum
Ivy - fat chick studying enlightenment because her plan based on "love" among all the employees whose names she couldn't be bothered to remember, didn't work.
But SHE DOES REMEMBER AN ENGINEER!!
He's dead. His wife, Mrs. Hastings (nice lady) points Dagny to duh duh duhhhhhhh!!!!
Hugh Akston working in a diner!!!!!
~~~~~Detective Job is DONE. ~~~~~~~
Meanwhile... the Bureau of Stupid w/ Wesley Mouch at the helm has implemented new mandates.
1. Max Speed on trains is 60 mph
2. Length of Freight Trains is 60 cars
3. All Steel Mills "must limit the max production of other metal alloys by other mills places in the same classification of plant capacity- and to supply a fair share of any metal alloy" to everybody
4. All manufacturing establishments are forbidden to move w/o permission
5. A moratorium on payments of interest and principal on all railroad bonds was declared for 5 yrs.
6. A tax on Colorado to pay for #5.
Dagny screams. Somebody says "Who is John Galt?" for like the 87th time.
Then, Ellis Wyatt burns everything he owns to the ground and disappears.
PHEW!
Don't like ads? Remove them while supporting the forum. Subscribe.