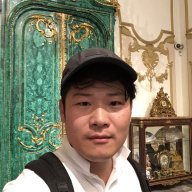 New Contributor
Read Fastlane!
Dear all
My name is Yong Ho Kim from South Korea. I read "The FAST...." and knew this forum exists.
I am 36 years old, not quite young, but I am trying to develop and grow up myself. I am truly inspired by this book. I've worked for a company for about 9 years, but I finally figured out that I can't make myself to be satisfied under the company life. I am really eager to change my life as I read this book. So now I am taking a step by step from 1st step : Define your life style and I am thinking hard what the business model can be based on the advices 5commandments. I am very pleased to register this forum and excited that I could get anything from this forum hopefully.

Brieft profile of myself
- Major in university : English Literature and language(But not excellent English speaker.)
- Job : Work for automotive parts company for 9 years. Overseas sales and overseas operation.