Contributor
Read Fastlane!
Read Unscripted!
User Power
Value/Post Ratio
224%
Jan 19, 2023
21
47
Hey all! I'm new to the fastlane and have been working on some side projects to test out some ideas I've had.
The current one I'm working on I've called:
Internet Confessional
Summary of app:
You anonymously confide in the internet and find community in others' confessions. Once you answer you can see other people's answers. Prompt refreshes every 24 hours and old answers are deleted.
Screenshots of all the steps below: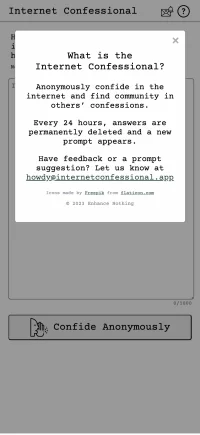 What's My Ultimate Goal​
Since I come from a technical background (software engineer), the biggest
goal
for me was just to better understand and learn user behavior. I want to see if I can make this app sticky enough that I can profit from having ads in the answers feed.
The Beginning​
When I released the app I shared it on my
social media
, my friends loved it and the organic growth happened immediately. I addressed some feedback and overall people were loving the concept. Then I noticed there was quite a taper.
I asked people why they didn't come back and most of them said they kept forgetting to come back. I would remind people via Instagram stories but it seemed like more of a bandaid fix than a solution.
Learning From Ads​
Then I spent about $30 on Google Ads to see how people outside my friend group would interact and I saw the same thing. High click through rate, AND even people who were clicking through were answering the questions at a high rate. But just like my friends, they weren't coming back
What's Next?​
Here are my thoughts on how to make the app more "sticky"
1. Move this from a web application to iOS so I users can turn on notifications for daily reminders
2. Add some sort of "reward system" for users, whether that's some sort of streak or keeping track of the # of times they've answered
I'm warey to do the first option because that's a lot of development work that might not even give me the results I want, and the second is a bit of work too. I am looking for feedback from experienced entrepreneurs in this forum,
am I missing something right in front of me? What is the next step I should take from here?
Thanks if you've read this far
edit: grammar