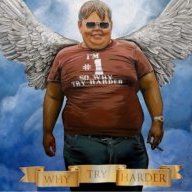 User Power
Value/Post Ratio
400%
Oct 25, 2018
2
8
I am 22 years old and I have been doing a shitty job for two years from now.
But the real question is:
What led me to become a grastronomist in the most important supermarket company in my area?(my first and until now unique job)
Well, i think my
past choices.
(and yes
@MJ DeMarco
, if you wonder how do the gastronomist at the supermarket would be like, IT IS A TOTAL SHIT!)
I spend my time serving unpleasant old people slicing hams, cutting cheeses and putting F*cking stuffed yogurt in the fridge!
Now I realized that the real reason why I did not engage in school was not what I thought, i think am not completely a stupid person.
It was as if I unconsciously rejected what was being offered to me: A scholastic indoctrination.
Unconsciously, I knew that on the road I wanted to take, those subjects would not have served me, the professors would give me what I did not care about. It was a wasted
effort
.
I had dreams out of the ordinary and what was being proposed to me were notions and tools to become an ordinary person. I wanted at all costs not to be like the others, that's why every time I tried to commit myself more to the end, I would have failed. I did not know my way but I knew very well what I did not want to become: The road to mediocrity. I would have liked to know at that age that the material that would take me on the road I had chosen was not on those school books.
I hope that the choice to read this book, and to register in this forum represent for me the first steps to enter the team of producers.
Hello everybody! I'm Christian from north italy!
Last edited: