Platinum Contributor
Read Millionaire Fastlane
I've Read UNSCRIPTED
Speedway Pass
May 10, 2015
2,474
4,672
1,152
These are the 10 rules that Jonny Ive abided by when designing Apple products. They were called Dieter Rams'
10 Principles for Good Design
, which will be explained in more detail below.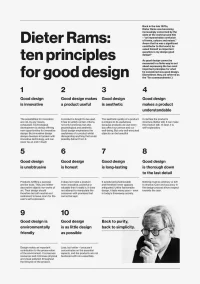 To give a little backstory, Jonny Ive was a rabid fan of product designer Dieter Rams (head designer at Braun during the 1960s); and vice versa. Rams has called Apple one of the few companies that understands and practices good design.
German designer Dieter Rams, famous for his sleek Braun consumer products and his 10 principles of good design, is celebrated in a new film and exhibition.
www.cnn.com
You can see Ram's heavy influence in a number of Apple products:
It may lead to cries of "Apple Copied Them!" but Apple
have admittedly always been shameless thieves of great ideas
.
Anyway hope this will affect the way you design products – if that's your thing or should you ever need to do so.
Don't like ads? Remove them while supporting the forum. Subscribe.