Silver Contributor
FASTLANE INSIDER
Read Millionaire Fastlane
I've Read UNSCRIPTED
Speedway Pass
I think many of the members on here are highly skeptical of Forbes and his mentioning this guy in every thread he's posted in, and are also highly skeptical of a product that sells for 20x more than comparable products without any foreseeable reason. Personally, I feel that this Mr. Pena is scamming innocent people out of their money. But that is only my opinion, and I can definitely understand why some would disagree.
Stumbled upon this about a decade late, but I have one thing to say that's as evergreen as it gets.
How could investing in a good book be a "scam"?
Gawd dayum! People don't even blink before they take massive debt for college or get married prematurely and lose half their fortune from a divorce.
But when it comes to books or courses, all alerts flash red and warning siren sounds start penetrating your skull to save you from being tricked!
Are there ill-intentioned profiteers out there, who sell you trash as gold?
Yes, there are.
But this is why there's something called
"due diligence"
and
"critical thinking"
Whether a book costs $19 or $499, it contains the same information.
However, nobody screams SCAM when they're about to buy something for $19. For most people this is a negligible amount. So instead, of scam they might just say
"Uh not a good book".
I've observed a mentality that permeates most people when it comes to their self-education.
They don't want to put considerable money into it.
This is not about how much a book/course costs. Whether it's priced at $400 or $10 is irrelevant.
What this is about is how much are you willing to bet on yourself.
What is the value you assign to yourself? Is it just $20? That's all you're worth?
If you had unlimited money, would you be content with a cheap, beat up used car? Or would you give yourself the best your money could get?
This is a no brainer when it comes to something as flashy as a car. Yet when it's about something that's as intangible as knowledge, it suddenly becomes a questionable practice.
Listen, if you want to move forward, you must give yourself the best your money can get.
However, most would rather keep living in the same, comfortable reality, instead of putting some pressure on themselves, and taking a small risk by betting on themselves.
Insecure.
"Invest X money? What if I fail? What if it's a bad decision? Oh my gawd I can't handle the pressure. I'm not good enough! I'm not good enough!"
"Why buy this when I can get it for free on YouTube?"
Well, do you so little respect for your time, you'd rather dig for hours to find something instead of getting it served on a plate?
This is a broke man's mindset. No wonder why you haven't escaped mediocrity yet. You think like all other mediocre people.
Mediocre people waste their time on meaningless endeavors.
Even when they try to direct their time onto something beneficial, they do not do it efficiently (low ROI).
When a mediocre person sees me get 10X their results, with 1/10th of the effort they get frustrated. They see others getting results so effortlessly. The results they crave and work hard for. Then they decide that something is wrong with them and quit.
Case in point, when you buy any book or course, is it possible to find the same information elsewhere?
Yes it is.
But everyone ignores a big caveat in that.
Free information comes with free misinformation.
Confusion ensues. Efficiency plummets.
"Why buy this if I can get it for free?"
Because COMMITMENT.
Everyone talks big words, but how many talk big with their actions?
"I want to become successful, make more money, date a hotter b!tch"
Alright, here is how, but it costs something.
"WHAT? You crazy man? I ain't paying for it, if you were real you'd just hand it over to me?"
If it was handed over to you, it wouldn't be appreciated. Look at all those rich kids who inherited their wealth. What did they make of it?
The same information that costs $10,000 and makes you millions, would make you nothing if it cost nothing.
Unless you commit to it, with your resources (money first, time secondly), you won't act on it with the dedication required to make shit happen.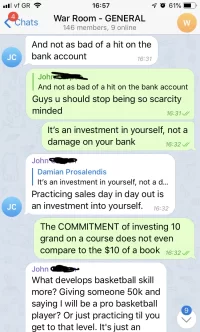 PS: These conversations are from a private online mastermind I'm a member of. I'm the 2nd millionaire in there, so I carry a big burden of the responsibility to help other less accomplished members.
I added these screenshots here because they add insight to the topic. I purposefully hid specific mentions cause this is not about a particular book or course.
All things concerned, my experience has shown me, that the primary hindrance to one's attainment of wealth and success, is his own self-limiting thought pattern.
What do you think?
Last edited: