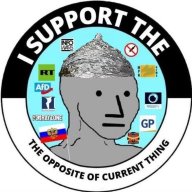 Platinum Contributor
Read Fastlane!
Read Unscripted!
Summit Attendee
Speedway Pass
User Power
Value/Post Ratio
441%
Aug 28, 2014
1,132
4,993
Decided to create a progress thread about this. A couple of years back I started doing webdesign with
@Fox
course. I still like making website, but I'm getting tired of the uphill battle to get clients, especially those clients that have such a small mindset that they don't dare to grow their business, anyway. Don't get me wrong, you can make a killing if you keep pushing, but
my other venture
just made it possible for me to have a stress-free life.
In meantime, I want to experiment with some stuff. I have an idea for a large app, but need more time and funds to work that out. Right now, I just want to make more websites and help other people make more money.
So why China?
I've been only once to China and have some Chinese contacts. From what I have seen is that they have no clue how digital marketing works in the rest of the world. Not just digital marketing btw, there's a massive gap between Chinese and western marketing and it's probably not gonna change fast.
There's a ton of Chinese entrepreneurs. Not only big shots, but also small business entrepreneurs doing ecommerce in the West. Go seek a product on Amazon, and you'll recognize a Chinese seller pretty fast on the broken English, weird names and awkward taglines. So I think the market is pretty big.
Webdesign
services are utterly cheap and bad. I have never seen a good Chinese website in my life. Horrible translation, not responsive, super long loading time, flash, etc. The reason is that for Chinese folks websites are not so important because they use platforms for a lot of stuff, take Alibaba for example. They think if they're company is on Alibaba, they don't even need a website. Also since Google is banned, there is no authority that demands high standard webdesign.
Social media
: many Chinese companies use FB, but the content is also "very Chinese". Easy to spot by the difference of humor, how products are presented, how people present them etc.
SEO
: non existant. Just like webdesign, many Chinese companies offer
SEO
services. But clients have no access to Google and are not able to check the results. So they can claim what they want.
Approach
Website
: since my own webdesign brand is in Dutch and thus aimed at Dutch-speaking clients, I designed a new brand and website. I wrote the copywriting myself and had it translated by a Chinese girl. But let's not forget the gaps. Because marketing that works in the West, doesn't work in China either. So I paid a Chinese copywriter to rewrite the Chinese text to Chinese standards.
WeChat
: aiming at Chinese customers means using their tools. I found someone that can promote on WeChat, but research learns that they will just drop a message in many WeChat groups, nothing more. So I must find out how I can do a good campaign aiming at business owners. For non-Chinese companies, it's pretty expensive to create a business profile on WeChat. Not sure yet if it's worth it.
Salesmen
: I know a few guys that are interested in selling my services. I'm just not quite sure if they're as good as they promise and if it will be hard selling these services in this market. I promised a good piece of the pie and will see if it will work out.
If you guys have thoughts or remarks, feel free to share them! I know it's gonna be rough sometimes, but if it works, it can get pretty big.