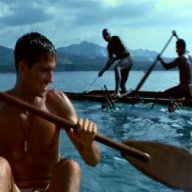 Gold Contributor
Read Fastlane!
Read Unscripted!
Speedway Pass
I can't remember what thread it was, but there is a video from MJ about the concept of pulling instead of pushing.
This got into my head as I'm happy to say my business is getting to the point where I'm seeing a whole lot more pulling going on versus me having to push 100% of the time.
I'd say I'm still stuck in both worlds as the pulling is light, but I'm now receiving offers, press inquiries, interview requests and much more on a weekly basis, versus never before.
I can pinpoint the exact date back in October when I went to an industry golf tournament and did an article on the event. It turns out there were many media outlets and other movers in the event and I was the only one to document the day, essentially documenting the documenters.
My project has been going on for two years now and to make this type of leap has been a godsend right at the end of the year and pumped for a new year in a different phase of operation.
I won't lie being pulled is amazing and a whole lot less exhausting and drains on resources and time. I'm going to explore this concept more in-depth in 2019. Sorry can't produce the video, could not find, but MJ explains it so perfectly I won't even make an attempt. If someone knows this video and can post I'd really appreciate it
.