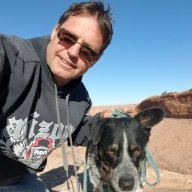 Legendary Contributor
FASTLANE INSIDER
EPIC CONTRIBUTOR
Summit Attendee
Speedway Pass
Jul 24, 2007
4,197
18,794
I don't know if any of you remember this story. I met a guy on one of my softball teams that made a lot of money on land. He had owned, parceled, and in few incidents done some development. His main game was land and division.

I sat down with him for a couple of hours and he went through some information about how he split out small plots of land.

Well, here a few years out, I presented myself with an opportunity.

It started with walking the dogs. I saw an old sign laying on the ground stating that a 5 acre lot was for sale. It was difficult to get anyone to respond but I finally did.

In the meantime, investigation was going on in the area to understand it. I found another parcel of 40 acres in the back of the sparsely developed corner. All of this property sloped up the side of a mountain that is US and state owned on 2 sides. It has jutting rocks and canyons. It runs alongside a mountain range that has bighorn sheep. I have spotted them on the property twice.

Information about the owners was gathered. I was able to see that it was an investment group that had just bought it off a tax lien. A letter was sent inquiring what they were going to do with it. Turns out that they were willing to sell the entire lot for less than I was willing to pay. So a lowball offer was made. We agreed on $120K for the lot.

30 of the acres are zoned as rural farm with 10 acre minimums. But one side consisting of 10 acres is zoned at 2 acre minimums. That is going to be split off and the 30 acres will be kept intact. That is where I'm building my house. The highest buildable spot in my town. The absolute best view and right up against canyons and rock cliffs.

The lots that are being split are over the side of a cliff where I will not be able to see them. I had a builder out already and he said that there are 3-4 buildable areas there. All of them have views and utilities very close to the lot edge.

I am allowed to split the lot into 5 sections without going through the subdivision process. So I can easily sell off 3 lots there for 60-70K each.

Just today, I went under contract on the other 5 acre parcel plus another 5 acres behind it. One of them adjoins the 40 acres. One of them had an easement through it to allow me to get to the 40. The easement is not wide enough for the county though. A four inch municipal water main is already halfway up the length of the back lot. With the easement for access, I can run the water main the rest of the way. The electrical is there at that point also.

Homework helps.

Each of these lots can be split in half after I add my easements. I should be able to make another 100K on these when all sold off.

It is going to cost a lot of money to run driveway and utilities 1500 ft back to the house. But, by the end of this, I will have a house on 30 acres up against rocks and over canyons for less than the house I live in now.

All this is 10 minutes away from the golf course.

I don't know how this has been so overlooked. Most of the area is developed with houses on 1-5 acres. The one acre lots are selling for 80-100K.