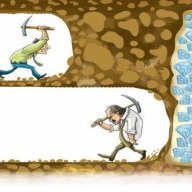 Never give up
FASTLANE INSIDER
EPIC CONTRIBUTOR
Read Fastlane!
Read Unscripted!
Speedway Pass
As a businessperson, you might think that writing books is for artists or those "do what you love" daydreamers fooling themselves they can turn their little hobby into a business.
And nothing could be further from the truth.
Have you ever heard about Keller Williams Realty? They're one of the largest real estate companies in the world with
over $350 billion in sales volume
. Do you know what kickstarted their meteoric growth?
A book.
Gary Keller, co-owner of the company, shares in his book
The One Thing
how it happened:
In 2001, I called a meeting of our key executive team. As fast as we were growing, we were still not acknowledged by the very top people in our industry. I challenged our group to brainstorm 100 ways to turn this situation around. It took us all day to come up with the list. The next morning, we narrowed the list down to ten ideas, and from there we chose just one big idea. The one that we decided on was that I would write a book on how to become an elite performer in our industry. It worked. Eight years later that one book had not only become a national bestseller, but also had morphed into a series of books with total sales of over a million copies. In an industry of about a million people, one thing changed our image forever.
We aren't talking about a guy who wrote a book and then launched a business like so many fake gurus do. We're talking about a professional who realized that the best way to promote his existing business was to share his knowledge in a book—and it worked so incredibly well for him it was one of his best business decisions.
Can what Gary Keller did help you grow your own business? You bet.
I've been in the self-publishing industry since August 2014 (I have a
61-page thread on the inside
) and generated through book sales over two millions in revenue. I like to think I know a little about independent book publishing. I decided to offer some advice to help you explore another potential, relatively uncrowded marketing channel. Let's break it into five questions you might ask to figure out if it's a viable strategy for you (for readability, each question in a separate post).