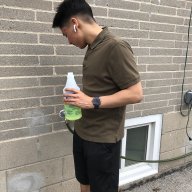 Bronze Contributor
Read Fastlane!
Read Unscripted!
Speedway Pass
User Power
Value/Post Ratio
245%
Aug 7, 2022
143
351
15
I've seen so many teenagers join this forum and they can't seem to get started. They start doing some shitty business that a youtuber told them to do like drop shipping, SMMA, and web design. A couple months ago that was me. I was doing web design and couldn't get a sale to save my life.
You want to get rich.
You want to put in the work.
But you just don't know what to do. Everything you do keeps failing.
"WHY DOES NO ONE WANT A WEBSITE FROM ME? MAYBE I SHOULD TAKE THIS COURSE AND START DROPSHIPPING INSTEAD"
"WHATS A GOOD ONLINE BUSINESS IN 2023?"
"HOW CAN I MAKE MONEY WHEN IM ONLY A TEEN?"
Those are the things that go on in your brain.
The solution
to your problems is not the sexy answer that you are looking for. It's probably something that you've never thought of. I am going to give you a copy and paste business that you can earn $1000 in this week:
Car Detailing
*if you're in a third world country then this wont work for you. this post is aimed for people who are in developed countries
"But I don't have the skills"
"But my mommy wont let me"
"But no one wants a kid to do their car"
"But I need insurance"
"But I have school"
"But I don't have a car"
That's what I thought before starting this. But now I've been making money and in the next 4 days I have 4 jobs scheduled that I'll make a total of $650 for 1-2 hours each job. These excuses mean absolutely nothing.
Here are the exact steps:
1. create a Nextdoor account - nextdoor.com
2. create a post saying "hey neighbors, I do mobile car detailing. call me for a quote"
3. receive their call and book them in - you're going to have small dick beliefs telling yourself you should charge $50 since it only takes 2 hours but trust me and charge $200.
4. go buy the supplies - soap, bucket, cleaning wipes, $60 handheld vacuum, and microfiber cloths are all you need. this should be a total of under $100
5. go to their house on the day you scheduled and clean their car
It doesn't get easier than this. It takes no hard work, a few minutes of your time, and some balls to believe in yourself to make your first $500 in a couple days. After this, your beliefs on money will change and you'll be way better off in whatever business you want to pursue. You can even hire employees, start running ads and scale this business which is what I'm going to do now.
Now you're going to start having excuses in your head like "what if I break their car" or "I feel like I'm scamming them" or "my mom said not to do it". Just follow the 5 easy steps, and it is going to work.
Don't worry about an online
CENTS
business yet. Just put some points up on the board and you'll be getting closer to your
goal
.