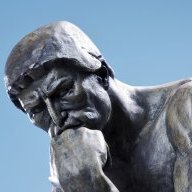 Contributor
Read Fastlane!
Read Unscripted!
Summit Attendee
Let's talk about "luck". Yeah, that one that some would say is "the reason" to one's success, and others would disregard as of trivial and not really important (what matters is "hard work"! kind of people).
Which group are you?
I dislike these losers who keep saying that success only comes to those lucky ones. These lazy ones won't do s*** and just complain. Out of their mentality and our present entrepreneurial fever/era and the Internet, we've seen a revolution against luck and chance. This is the second group... the "I can be Elon Musk, Bill Gate, or Warren Buffet" group.
If you follow the entrepreneurship media, you'll see how the majority of success stories that get publicity mostly praise the hard-working entrepreneur who founded this startup, who had this amazing idea, who raised millions of dollars... I see his/her picture and I'm like... what am I doing wrong? You never read about being in the right city, or the right moment in history/industry, the right age, right university... you name it.
My point with this post is that we need to stop wishing the "same" kind of success we read everywhere. Our story, our success (or fail) story, will come out of our hard work, yes, but also out of our own circumstances, and yes, chance and luck. Let's give credit where it is due and let's keep working hard
but
knowing from the beginning that f***, it may just not work. Period.