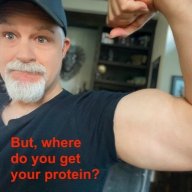 I followed the science; all I found was money.
Staff member
FASTLANE INSIDER
EPIC CONTRIBUTOR
Read Rat-Race Escape!
Read Fastlane!
Read Unscripted!
Summit Attendee
Speedway Pass
Jul 23, 2007
34,956
138,028
You're in prison and your MEANING/PURPOSE is to escape to FREEDOM.


You're speaking to a fellow inmate, Joe, and he says...

Joe: Hey man, we've discovered a way to escape this shit-hole and FREE yourself.

You: Yea? How?

Joe: In shitter number three, in the west bathroom, the bricks behind the toilet are all lose and you can crawl out behind it. Behind the wall there is a sewer pipe and freedom will be as simple as crawling through a sewer pipe filled with shit. You want in? We're going tomorrow.

You: Crawling through a sewer pipe filled with shit? That sounds disgusting, not to mention I have bad knees and shouldn't be crawling.

Joe: What? Have you heard anything I said? WE CAN ESCAPE THIS PLACE.

You: Yes I heard you, but crawling through a sewer pipe into freedom isn't how I expected to free myself. I don't like how that sounds and it kinda nauseates me. I'd rather wait until a more pleasing opportunity comes by. It be really nice to escape hiding in a bin of freshly laundered sheets.

Joe: But all the laundry is done onsite here at the prison, you'll never escape because that opportunity will NEVER come.

You: Oh well, I guess I'll remain a prisoner for the rest of my life. Besides, we get free food here.

Story by MJ DeMarco (Please attribute if sharing!)

Moral of the story?

Your refusal to embrace discomfort and unpleasant actions (crawling through a sewer pipe filled with shit) is what keeps you in prison. No, your dream opportunity of escaping in a stack of freshly laundered sheets isn't going to happen. Do the damn dirty work or remain a slave.

This story came about as I was reading in another thread where someone had mentioned that their meaning/purpose was quite simple: FREEDOM: To be free from SCRIPTED bull-shit and to do whatever they wanted.

In my opinion, that type of MEANING/PURPOSE is the BEST because not all meaning/purposes are the same. Some, in fact, are detrimental to your success.

Why?

Because some meaning-and-purposes are all inclusive of action, behavior, and opportunity. The more generalized your purpose, the better it will be in helping you conquer the world. Like our prison example, "freedom" is very generalized and suddenly ALL ACTIONS are considered, even crawling through a sewer. Yet, the more specific your purpose, the worse it probably is.

(Note: We're assuming ALL actions here are ethical and legal.)

So when you confine your meaning and purpose to specific *things* -- say, I want to be the best race car driver on the planet! -- you RISK confining your action to a limited set of actions and opportunities. When the sewer opportunity floats by, you dismiss it. Meh, not sure how that will help me become a great race driver.

In other words, you will refuse to pursue other opportunities because it falls outside of your limited scope of purpose and vision.

So I'll leave you with this...

What is your MEANING and PURPOSE in life?

Is it general, such as "FREEDOM?" Or is it SPECIFIC and perhaps, hindering?

And if it is a hindrance, what can you do to REFRAME it so you'll take advantage of freedom-making opportunities, discomforting actions that might resemble crawling though a sewer pipe filled with shit?