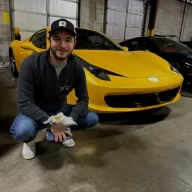 THE TRUTH IS OUT THERE
FASTLANE INSIDER
EPIC CONTRIBUTOR
Read Fastlane!
Read Unscripted!
Summit Attendee
Speedway Pass
A cheap teddy offer which left shoppers with young children queuing for up to eight hours amid chaotic scenes has been abandoned over "safety concerns".

Build-A-Bear Workshop was offering UK customers a chance to buy any bear, which can cost up to £52, for the price of their child's age.

At Leeds' White Rose Shopping Centre police were called when queues of "about a mile long" formed.

The company said the response had been "overwhelming and unprecedented".

There have also been reports of long queues in US shopping centres, where the American company was also putting on the same promotion on Thursday.
Build-A-Bear runs a promotion where for July 12th, you can get a bear for the cost of your child's age. So you could buy a bear for your 3 year old for $3. Apparently the bears typically cost up to ~$50.
Lines were getting to be so long, and presumably disorderly, that they had to end the promotion, angering many.
Another classic tale for the sidewalker story books.
Just goes to show how most people value their time.
Source:
Build-a-Bear shuts down single-day 'Pay Your Age' sale: It was so successful, it failed
Build-A-Bear shops stuffed amid offer chaos