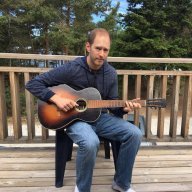 Contributor
Read Unscripted!
I've struggled with this for years, and haven't really gotten anywhere with my own business because of it.

I start working on something, and then don't quickly get any traction, and move onto something else. The cycle repeats.

I know a lot of other people struggle with this 'shiny object syndrome' as well, but am curious on how those of you that got around it accomplished that.

The main things I seem to struggle with around business ideas are:

1. I'd prefer to do something I'm passionate in (guitar, for example), but struggle to find
concepts I'd think people will pay for, and that is different enough from the rest of the
market.

2. A majority of ideas I come up with are things that would be tough to monetize for a long
time, as I'd be doing it on a very small scale. For example, things like a royalty free audio
store or marketplace. Things like this wouldn't have a lot of value until a large library is built
up (and I'd be competing with established companies that have hundreds of thousands of
offerings). Other ideas rely on things like advertising, which wouldn't make much income
until I had an audience of many thousands of people.

3. Trying to find a 'perfect' business model. I find myself discarding business ideas if they don't
meet a long list of criteria (ie. subscription/recurring revenue, passion for it, profit margin,
scalability, it solves a problem, etc.). I admit that this type of perfectionism holds me back.

Curious on people's thoughts on deciding between multiple business ideas (I know trying to start multiple businesses at the same time is not a good idea), and balancing passion-based ideas with less-passionate (but potentially more profitable), ideas.