Gold Contributor
Read Fastlane!
Read Unscripted!
Speedway Pass
Aug 24, 2015
504
1,387
49
What's the first word that comes to mind when u see this photo?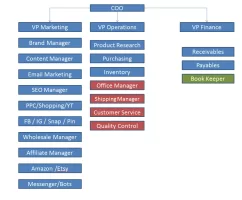 I created this with the idea that you have significant capital and resources. And obviously a single person can fill multiple roles.
For me, the word is "bottleneck" because if I want to launch a new brand, 99% of blue ones I do myself. The red ones are employees and the green is a 3rd party.
I'm sure a lot of you do the same thing... food for thought...