Hello everyone!
So I've been working on this idea for a while now and - while I believe it follows all of the commandants on building a business system as mentioned in
The Millionaire Fastlane
- I figured it wouldn't hurt to drop my idea here and get some feedback / insight. And... well, since I'm close to releasing this and taking my first step in building a fastlane business, I figured this thread would be a good place to document my process and journey, and perhaps it can help other entrepreneurs as well!
In any case - here's my first fastlane idea:
I am currently building a Plant (primarily houseplant) Trading application. The idea started when I was browsing my local plant community Facebook group - looking for available plants to trade. The thing is - Facebook is a little clunky. There's a multitude of plant groups, and the one that I'm primarily a part of posts all kinds of plant related things, including memes, advice, show-offy posts, etc. Its the one that is most active and has a dedicated local community. Thing is though, you'd have to scroll and dig through some posts to find a post that is actually offering to trade. The Facebook algorithm likes to place posts that have the most engagement on top too, so a trade post (ie the one I'm looking for) might get lost - and it's up to chance whether or not I scroll further that day to see it. There ARE other Facebook groups that are all about trading plants SPECIFICALLY, but they can be country-wide and may not be tailored to a specific city. In addition, a popular form of plant-trading post is a "master-post" in which a mod/user posts something and actually uses the comments to post all their plants that they want to trade. Other users respond to the comments with replies with their own offers - and sometimes there are cool offers that they are willing to trade but its all hidden in replies. Personally my pet peeve is that you really have to dig and scroll to find cool things so my app aims to combat that by letting everything be clear and visible from the get go. Basically - convenience.
I believe this idea satisfies the
5 FASTLANE COMMANDMENTS
1)
Control
- I am coding this app and will release this under my name. There are a few parts that are difficult for me so I have hired a freelance developer to help me with some of the more trickier aspects of the app. However, this app / business still belongs to me
2)
Entry
- I have 3 main competitors which I will go into more detail below, but given that it's
only
3 - I think this road is not congested. I can easily distinguish myself and be exceptional at my unique selling point (trading). In addition, writing and creating an app seems like a high barrier of entry (though this is just a guess).
3)
Need
- I feel as though this is the weakest point. I will admit that the "need" I am addressing is purely personal - it is only my personal hiccups with how plant trading is commonly done, and I am going off on the assumption that because I have these pet peeves, other people must too. However, I did not talk to other people or community members in the group and I am the most worried that the current grievances of trading is not enough for other people to justify moving to another platform. I recognize that people resist change - so why should they move to another platform to trade plants if Facebook works just fine and already has an active userbase? This is my biggest challenge and the way I think I can combat this is simply doing what facebook groups can do - but better. Be tailored SPECIFICALLY to the trading aspect and exploit the clunkiness of facebook group trading. That is the app's value - sell on the convenience. I am still thinking and formulating of a way on how to best release this app and get an initial userbase and activity when facebook groups is the standard. Needs work - but if I think of a good execution idea - I will be sure to add an update to this thread.
4)
Time & Scale
- I'm working on this app and spending time coding it. Once it releases though - people from all over the world can download and use it. I plan to implement ads and a premium subscription to get rid of said ads in addition to minor quality of life changes. I will only have to work to update, improve and polish the app - but once the app is completed, the app will be working 24/7 for me. And because its on the app store, it will be available worldwide on the internet (though my target audience are millennials who love houseplants).
While creating this app - I thought for a long time that my only competition was basically
Facebook Groups
and this one obscure site called
PlantSwap
(
https://plantswap.org/
). But then I realized that there in fact 2 other plant trading apps that serve as my competition:
Blossm
,
Propa
and an app that is also called
PlantSwap
(but seems unrelated to the website version). But that's ok!! Because as DeMarco mentions, competition is inevitable - I just have to do it better / carve out something unique.
Blossm -
My main competitor. Seems more tailored to the buying and selling of plants as opposed to pure trading. There is a shop tab and upon tapping on a plant post - there is only an option to message a user. Presumably to set up buying details.
Pros:
There's a neat mini database of plants so that users can search for a specific plant and also get bullet point details on how to care for them.
There's an in built community tab system - where users post their plant pics and ask for advice - which behaves very similarly to how the plant Facebook groups currently do things.
There's also a tinder esque swap system LOL - but id doesn't seem to be usable, as every time i try to use it it states that there's "nothing in my area"
Tags to filter through
Cons:
No actual way to look at what others are offering for the said item - which I personally like about Facebook trading
Might be biased, but I think the design is kind of ugly / clunky
Settings and customizability is non-existent. For example, by default, the app forces the user to show their address on a map. What if a user doesn't want that to be seen? There doesn't seem to be a way to change that. The only thing that can be changed in the settings is: 1) whether or not you want push notifications, 2) whether or not you want to be seen online, and 3) changing you distance units from imperial to metric.
In addition, imo this app has a clear focus on other things. The in-built community tab and market tabs, and the fact that you MUST include a price on your post when you create a post - makes it clear that this is for someone who wants to sell plants. While the community tab is cool - it's not something I'm going to bother to include in my app because that is not my focus. My focus is entirely different - trading. Since this is my main competitor, I think I stand out enough.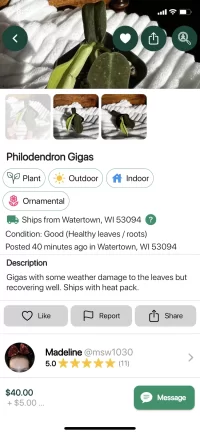 Propa-
Seems like they are trying to be the instagram of Plants? Advertises itself as a "community" of plant people who want to share their plants - and the fact that they modelled their app after instagram seems indicative of this.
Pros:
Familiar-ish layout means users know exactly what this app is for
Seems tailored towards building a community and has the option for giveaways and trades available
Giveaways and freebies seem to be more common on this app
Good place to just show off your plants, and then later down the line if you want to trade or give it away, it seems as though you just need to add a tag to the post you made.
Cons:
While the option for trading and giving plants is available, it is not intuitive to find and does not seem to be the focus - it seems as though you have to search for it yourself and then message the user to propose a trade? You may as well just use facebook! Also, same issue as before - because trading is not the focus, you dont get to see what other people are offering for the plant. It really does just function as an Instagram with a plant gimmick. So again, more community based.
Again, might be bias but I think the design is off
Settings also non-existent
Once again, because has a clear focus of being a community based app - with it using Instagram as a base for their design and features, I think I stick out well enough.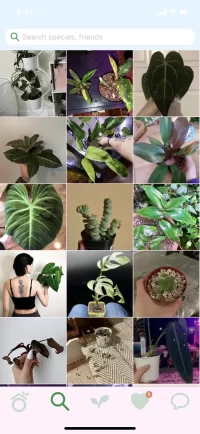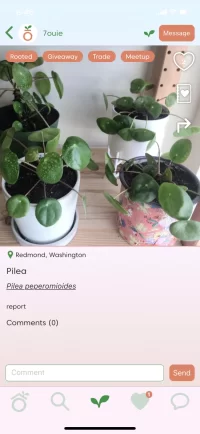 PlantSwap-
I won't even bother with this one since it looks ugly and outdated, and it was last updated in 2020.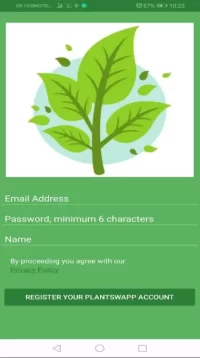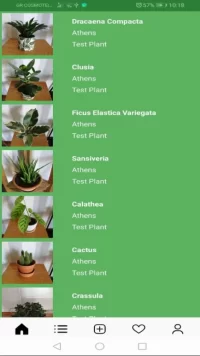 Now I think it's only appropriate that I show what my app looks like since I talk about how the other apps don't look as nice. Obviously my opinion is biased, so I am eager for other people's opinions!
Turns out I can only attach 10 pics in a single post - so I will offer more images in my next reply!