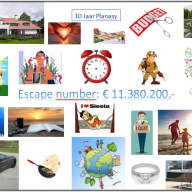 New Contributor
Read Rat-Race Escape!
Read Fastlane!
Read Unscripted!
Hi All,

Quick question. I'm in the process of building a mobile app. What is the best code to learn? I have no experience. Plan is to start building it for android.

The app is a form of social networking app where people must be able to interact with each other. It also will contain a calender function, database for collecting user data and in-app purchases later on.

From what I have read Java or Kotlin are the best options, but I am not sure. Hope that you can help me finding the best solution for my situation.

Thanks!