Contributor
Read Fastlane!
User Power
Value/Post Ratio
219%
Feb 14, 2023
16
35
Firstly I apologise if the title comes across as sounding cocky, it certainly is not intended like that. This Forum has a high % of very successful people so realistically most peoples reaction would be "so what" and if so, I welcome that.
This will be a bit of a read, but I'll try and summarise events while still hopefully portraying enough information to you guys that you may be able to offer an opinion and some insight. As realistically in addition to being able to clear my head and write it all down, getting help from a forum like this is definitely a part of what I need.
Intro
My name is Matt, 28 years old, UK based and as the title suggests I've built a Motorsport and performance garage "business" about 6 years ago now. My family has a history of engineering knowledge, so my experience stems from that. I only started getting into cars at 18 years old, within 4 years of tinkering I got fired from my 9-5 office job, because I was spending to much time down at the workshop (sick days/excuses) etc so I decided this was the time to start my own "business". I wanted to be in control.
I quote "business" because it was a passion project. I had bought myself a job I just didn't know it yet.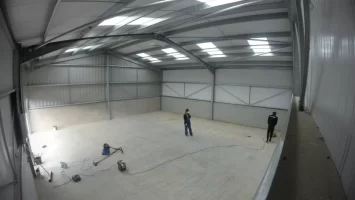 Here's how the workshop started
Yep again full of toys - passion project remember haha - yes that is a climbing wall.
This point I started building the workshop into more of a business, needed a Clean room to build engines in, and a Fabrication room to make a mess in - started focusing on the customer more (maybe without me knowing it)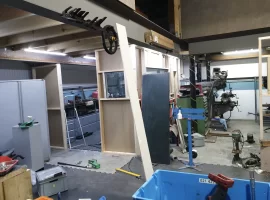 Where it currently stands today.
Office
All you see above I've learnt and built myself because I couldn't afford to pay someone else to do it. From 3 phase to single phase electrics, plumbing, framing, ramps, air compressors etc etc (Again this isn't a gloat just to paint a picture - most of you guys have the luxury of being able to afford to pay people, who's really the sucker haha - ME)
Within the last year (2022-23) I've also finished renovating my first property while keeping the business afloat.
Kitchen before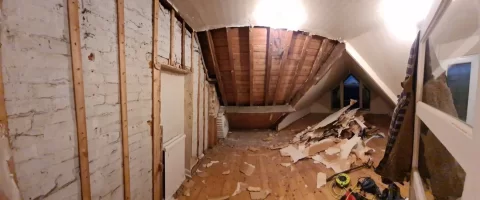 Kitchen after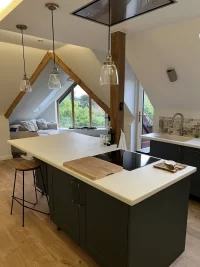 Bedroom viewing into Bathroom before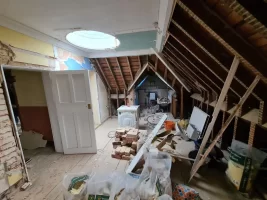 Bathroom after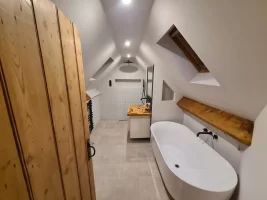 Bedroom after.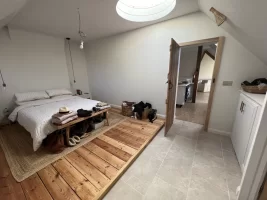 The plans for this not 100% - would make a very good rental, it was hard work but I enjoyed doing it, learnt a lot of new skills, again I couldn't afford anyone to do it, so I did it all. From plastering, tiling, planing the wood, kitchen, underfloor heating etc etc
For anyone interested in the figures we bought the property at £155k and had it revalued the other day at £275k with £40k put into it.
I digress - back to the business, I included the additional house bits as I wanted to paint the picture of;
- I'm not afraid of risk, I thrive off it
- I'm not afraid of hard work, if anything I purposely make things more complicated and harder than it needs to be - things have to be done right.
- I and everyone can turn their hand at anything, you just got to want it bad enough.
The biggy - while did I feel the need to come on this forum -

Business overview.
The business on paper turns over from 2021-22 £220k, with a net of £40k
Had 1 employee from 22-23, then 2 more 23-current (just left)
We are quite a niche where we specialise in a lot of things nearby companies don't do - engineering, engine building, gearboxes etc, chassis set ups.
(CENTS)
(C)ontrol, I'd say that's 50/50, control over pricing dictated by specialists around the UK and most my customers want the cheaper end.
(E)ntry barrier to entry high and competition low-ish. A lot more DIY'ers now taking to the scene doing the work cheaper etc.
(N)eed - We do solve customers needs by expanding our services to cover their needs under one roof, even while pushing my workload to the max
(S)caling almost impossible - as said above I hired 2 more employees in 23 and have interviewed many and none of them have the specific skill sets we are looking for so I let them go, and we are now back down to 2 of us.
(T)ime is a huge factor,
I'm a core part of the business at the moment, do everything from being on the tools, to admin, to marketing, to building a new website (e-com)
I've started taking weekends off to
focus on working ON the business not IN it
. which is a bonus as I wasn't able to do that before.
Where my head is at..
I'm honestly struggling, and I've been struggling for a long time, I feel like understand where I need to be, and where I want to be, and the thought of that excites me, but the energy required to get there says otherwise.
Passion, hmmm going...gone
Attention to detail, dwindling away
Motivation, dwindling
But this started off as a passion project, I have absolutely no doubt I can turn it into something bigger and it's already going that direction, systems have started to be put in place BUT since I've been learning myself over the last 2 years (Reading non stop, better diet, health, psychology, meditation, and entrepreneurship, finance)
I've realised/ learnt/become wiser to, that there is much bigger and better opportunities out there (is it a grass is greener situation ha ha) much higher leveraged, much better returns, much easier to scale, a bigger market, more customers.
Maybe I'm being a bit OTT, and while I absolutely love the journey I have been down in regards to acquiring skills to be self reliant in life and I don't believe money is EVERYTHING, but I do believe in becoming financially free, I can't shake the feeling of; if only I had put a bit more attention into something I can leverage more, E-commerce etc - I would be here being able to grow bull shit skills like plastering in my own free time, not because I HAD to because I couldn't afford it.
You've still not answered why you're writing on this forum Matt...
I recently had the business valued between £150-250k with an
asking price of about £200k
. Yeah it's not much but I feel like its a great opportunity to one, take some time to reset, go back to the drawing board, invest in myself more etc and then use the remaining capital to invest in a building a business with the skills i've learnt, plus learning from the mistakes I've made - I don't know what that thing is yet, but I know what the foundations it would be based on.
So with the limited stuff you know about the situation, what would you do?
Sell the business and start again using all the knowledge I've gained recently, OR push through and grow my garage business with limited funds?
Last edited: