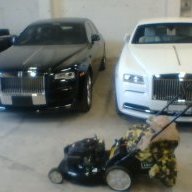 Platinum Contributor
Speedway Pass
User Power
Value/Post Ratio
160%
Nov 11, 2016
2,804
4,497
We have all held a fear in our self, whether it is a business decision, fear of public speaking, fear of failure or fearing looking like a fool.
Typically a cause of this fear is the unknown, my first order I placed from an overseas factory weeks ago put lots of doubt & fear into my mind.
What if I get scammed?
What if I receive nothing in the mail?
What if my money I saved to buy this order disappears and I never see it again?
All the time spent in my job to invest in a product would be GONE!
An important exercise to implement is looking at the alternative. What if I DONT place this order?
I will still be stuck at my job (no extra income)
I will still make the same amount of money
I will still NOT have a business.
As you can see the language changed from '' What if ' to '' I will '' in a negative manner.
This can be used in several different situations, for example going up on stage if you have a fear of speaking.
What is the worst that happens? Awkward silences? Boo'd off stage? At least you'll have a hilarious story to tell about how you totally froze up and crapped your pants in front of hundreds of people.
Something that I have been dealing with myself is procrastination, and I've found the cause to be rooted in fear & anxiety of failure after lots of deep thinking, aswell as the vast amount of work ahead of me to progress my life (which kinda sucks but is the process to the event)
Are you dealing with fear and procrastination in YOUR life? What are some of the things that you are putting off? Look into your thoughts deeper, and possibly you can see is it just a bunch of BS you are most likely telling yourself.