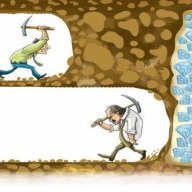 Never give up
FASTLANE INSIDER
EPIC CONTRIBUTOR
Read Fastlane!
Read Unscripted!
Speedway Pass
Equity crowdfunding is the online offering of private company securities to a group of people for investment.
The benefits are that you can join an existing investment syndicate (often managed by professional business angels or VC funds), invest broadly ETF-like (with Angel), that you're protected by the platform that acts as your nominee, and that you don't have to look for investment opportunities privately, which is a hugely time-consuming and difficult job.
The risks are that well, it's more like gambling than actual investing as most startups fail and that it's probably the most illiquid investment there is, and usually for at least 5-10 years.
Some of the most notable platforms include
www.Angel.co
,
www.SeedInvest.com
,
www.Microventures.com
, or
www.Seedrs.com
in Europe.
Any experience with equity crowdfunding? Results to share? Opinions? Other thoughts?
Last edited: