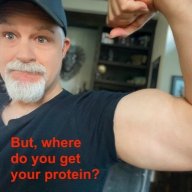 I followed the science; all I found was money.
Staff member
FASTLANE INSIDER
EPIC CONTRIBUTOR
Read Rat-Race Escape!
Read Fastlane!
Read Unscripted!
Summit Attendee
Speedway Pass
Jul 23, 2007
35,315
140,133
THIS IS AN OPEN CALL TO POST ANY EMAILS, SUBJECT LINES, GRAPHICS, WHATEVER -- WHERE YOU ARE COMPELLED TO CLICK!

LETS SEE WHAT WORKS!
I'm guessing this type of email marketing works pretty well.
[GALLERY=media, 149]Vitacost Ad - Effective Email Marketing by MJ DeMarco posted Mar 1, 2018 at 11:35 AM[/GALLERY]
It worked on me.
I clicked and bought.
The "open loop" (
@SinisterLex
) of having a slot-machine roll in front of your face is TOO MUCH to handle... you have to PLAY!
This is why we see this module on a lot of eCom shops (the spin the wheel thingy.)
Just an FYI,
@AllenCrawley
-- right up your alley!
Last edited: