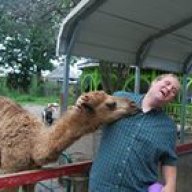 Silver Contributor
Speedway Pass
Hopefully this is the right place for this, I need to bounce my situation off a few brains.


In October, I kind of fell into a odd deal to purchase two laundromats where I have quite a few rentals - I lost a bid on a hotel that I wanted to renovate by a whopping $500, and figured that if I couldn't get the hotel, I Might as well get the apartments + laundromat sitting right next to it.

Long story short the laundromat became 2 laundromats since the seller was in a portfolio loan with a local bank and he couldn't get a partial release. So now, me the guy with 88 rentals now has rentals AND two laundromats, two dumpy, frumpy laundromats that were closed down in 2017 because the owner went through a major life event that required all his attention.


Anyway, I secured financing to go in, renovate them, turn them into operating businesses...........but........it seems that after buying them I opened up the floodgates of everyone wanting to sell me, and people in town begging me to buy ALL the laundromats in the area. It seems no one wants to run them, no one wants to work on the machines and they're selling for pretty minimal costs. So, I've been looking at two more, even though I haven't finished renovations on these other locations.

One location I looked at is making ~$20,000 a year in its current state. I have full tax returns from the seller (Which appear to be 'fudged' a bit, since it's a 100% cash business and under-reporting is common to avoid taxes), but at least by the books it's a bit profitable. The deal is the location can easily be operated on a hireling working a hour a day - Opening & closing, and making sure floors are swept, then a hour a week taking cash from the machines (Something I'd have to do myself). This location operates in a demographic area that's easily 1/10th the traffic as one of my under-renovation locations, and about 1/2 of the other location.

The thing is, looking at his books, and seeing how he operates, the business is REALLY, REALLY inefficient and his costs are easily double what they should be.

So, as it stands i'm trying to figure out if I can get this as a 3rd location.........But.......Now there's a 4th location someone brought up - Downtown, extremely high traffic area, right between two major apartment complexes. I Had met with the owner a year ago asking if she'd sell but turned it down. She was making $8,500/mo in quarters alone with a cost basis of <$5k/mo which resulted in net cashflow of $3,500/mo on a hour a day of work or so since these businesses are mostly automated. Location is an abject dump with part of the equipment being from the 1950s.

Anyway - Is it insane to consider buying two more businesses to tack onto the 2 under renovation? Would it be possible to reach a scale or structure that I would benefit the soon-to-operate businesses , or just make more headaches for a entrepreneur that's not delt with the industry. To my benefit the laundromat industry has a 3% failure rate........compared to something like a 80% 3 year failure rate of restaurants.